Market Recap
US politics has been in the headlines after Trump fired US Secretary of State Rex Tillerson, who famously had to issue a denial that he had called Trump a "moron" – something that made him a hero with most people, who at one time or another have all called their boss something similar (or worse). Tillerson's removal had been rumored for some time, yet still sent stocks down sharply as his replacement suggests that the protectionist faction in the administration is winning. USD weakened as did AUD, a risk-on currency of a country that depends on trade. USD wasn't helped by yesterday's much-awaited US consumer price index, which came in largely as expected.
This morning, the special election in Pennsylvania is too close to call, although the Democratic candidate has a tiny lead. A Democratic win in such a soundly Republican district could throw US politics into disarray as it might convince more Republicans to retire in November rather than face going down in ignominious defeat. That too would tend to be USD-negative as it would raise fears (hopes, in some people) that large parts of the Republican political program might be reversed come November.
Boy, my idea on Monday to buy CAD/JPY is turning out to be one of the worst of my career! CAD collapsed yesterday after Bank of Canada Gov. Poloz said he will continue a cautious approach to raising rates. He observed that there are still some 500k Canadians who can be added to the labor force before all the slack is absorbed (much like in the US, where the participation rate has recently started to go up – in Canada, the participation rate has not responded at all to the fall in unemployment, as you can see from the graph) and that the economy can expand further without adding to inflationary pressures. This has been one of his consistent themes: that growth not only adds to demand, but also boosts supply as companies invest to meet the addition demand, and therefore faster growth doesn't necessarily imply higher inflationary pressures. Still, I think the fall is overdone and would expect some mean reversion today – although that may just be my bias speaking.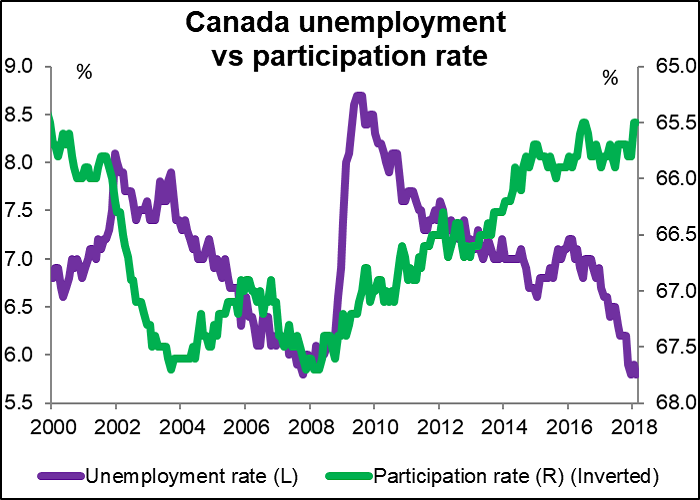 Today's market
In Europe today, attention will focus on a conference on "The ECB and Its Watchers." One might expect a number of the Marvel extraterrestrials The Watchers to appear from their home in Watcherworld and give ECB President Draghi the benefit of their billions of years of experience to help him taper down the Bank's asset purchase program, but alas no, in this case the Watchers are "the various monitoring groups, independent academics and market participants." How disappointing. In any event, Mr. Draghi will give the introductory speech and various other ECB bigwigs, such as Chief Economist Praet and VP Constancio, will participate in the panel discussions during the day.
At the beginning of the US day, two indicators come out simultaneously: US retail sales and US producer prices.
US retail sales is one of the major indicators for the US economy every month, because so much of the US economy – some 70% -- is private consumption, of which retail sales is a lot. There are four different versions of this indicator, each one more narrowly focused. The "advance," or headline figure, which includes the most categories, is the most closely correlated with subsequent movements in the exchange rate. That's the one I focus on.
It's expected to bounce back from the previous month's fall, but not that sharply – not back to the pace of increase seen late last year. That's especially disappointing, given that the headline figure includes a rise in sales simply because gasoline prices rose during the month. USD-negative.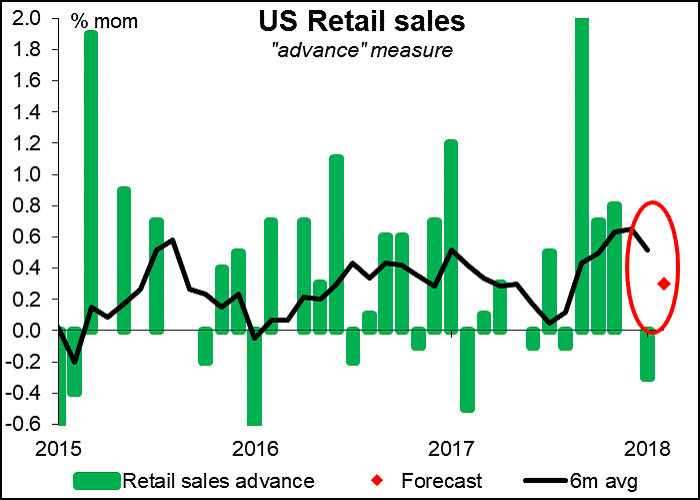 The US producer price index (PPI) on the other hand is expected to rise at an accelerating pace, particularly the core PPI. This could somewhat counter the relief that accompanied yesterday's benign consumer price index and counter any disappointment from the retail sales figure, although it may be that US politics are a bigger issue today.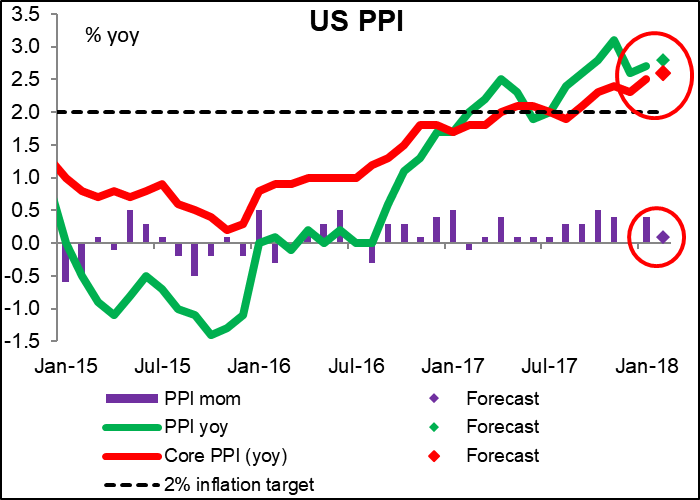 Overnight, New Zealand announces its Q4 GDP. It's expected to show an acceleration of growth from Q3 and a slightly above-trend rate. That would be a good showing, given some of the soft data from manufacturing and residential building and the disappointing milk output. NZD-positive.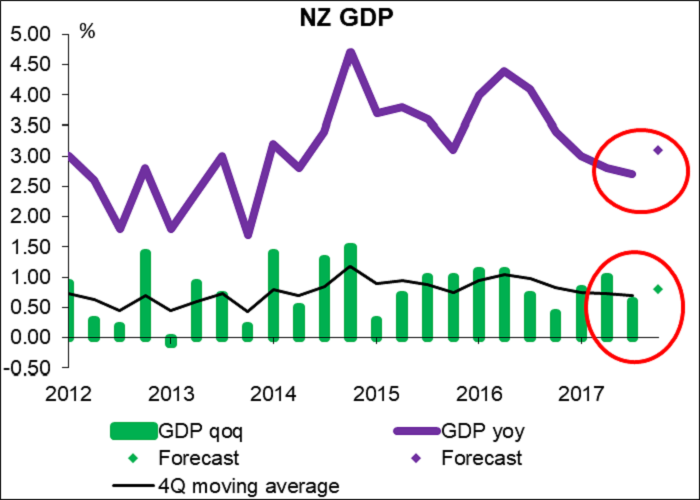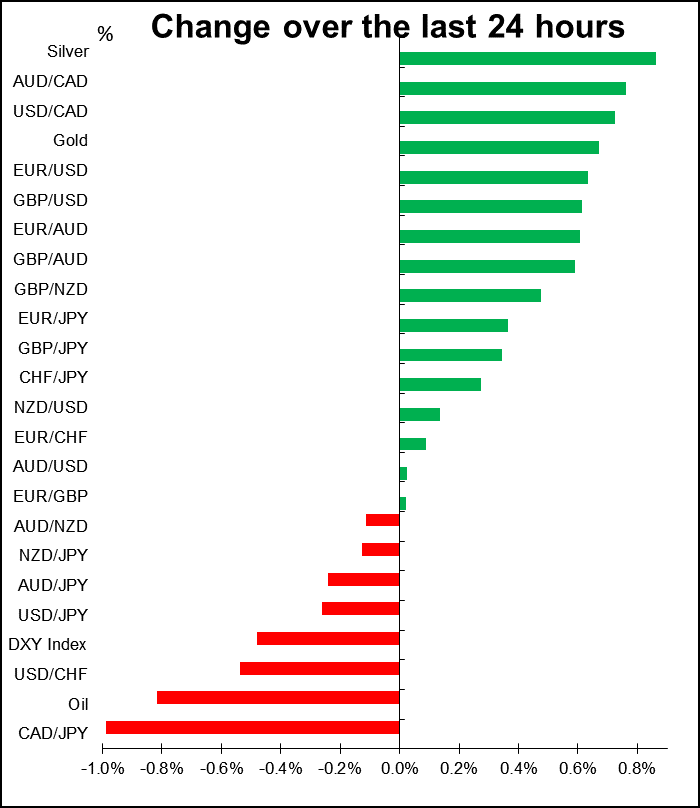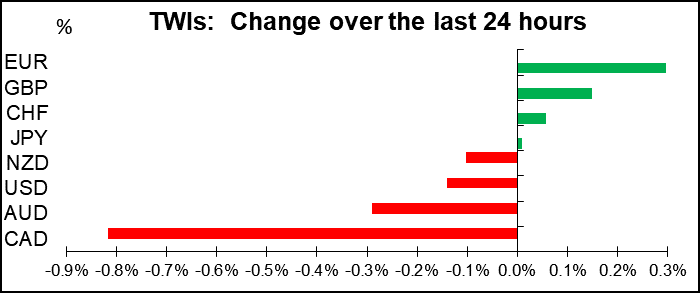 ---
P.S. Did you like my article? Share it in social networks: it will be the best "thank you" :)
Ask me questions and comment below. I'll be glad to answer your questions and give necessary explanations.
Useful links:
I recommend trying to trade with a reliable broker here. The system allows you to trade by yourself or copy successful traders from all across the globe.
Telegram channel with high-quality analytics, Forex reviews, training articles, and other useful things for traders https://t.me/liteforex
The content of this article reflects the author's opinion and does not necessarily reflect the official position of LiteForex. The material published on this page is provided for informational purposes only and should not be considered as the provision of investment advice for the purposes of Directive 2004/39/EC.