Market Recap
The European Central Bank (ECB) announced the end of its quantitative easing (QE) bond purchases. They will continue buying €30bn a month until the end of September, after which they'll reduce it to €15bn a month until end-December, then stop net purchases.
Note though that they hedged their bets by saying the end of the program was "subject to incoming data" that would confirm their outlook for inflation. Contrast this with the change in the FOMC's comment yesterday, where they removed the section saying that rate hikes were dependent on the economy performing as expected. Thus the ECB's policy stance is still somewhat more dovish than the Fed's.
Furthermore, the ECB said it expects rates "to remain at their present levels at least through the summer of 2019" and in any case for as long as necessary to get inflation back on track. Indeed, ECB President Draghi said the Council didn't even discuss when to start raising rates. So while they are ending their bond purchases, they seem in no rush to start raising rates any time soon.
On the contrary, Draghi noted that "significant" stimulus is still needted to build up inflationary pressures. Thus the ECB will continue to reinvest maturing debt, in contrast to the Fed, which has for some time been reducing the size of its balance sheet. Furthermore, Draghi reiterated his usual statement that "the Governing Council stands ready to adjust all of its instruments as appropriate," meaning it's all still data-dependent and that they could even restart bond purchase if necessary, at least theoretically.
The news was a surprise to many investors – apparently only 30% of respondents to a Bloomberg poll expected them to announce the end of the QE program at this meeting, while I would guess few if any people expected any forward guidance on rates.
While the announcement of an end to the QE program may have come earlier than many people expected, the pledge to keep rates unchanged "at least through the summer of 2019" means rates will stay low for longer than had been previously expected. That hit the currency and EUR was sharply lower on the news. It fell to 1.1689 from 1.1804 this morning. All the other EUR crosses fell as well.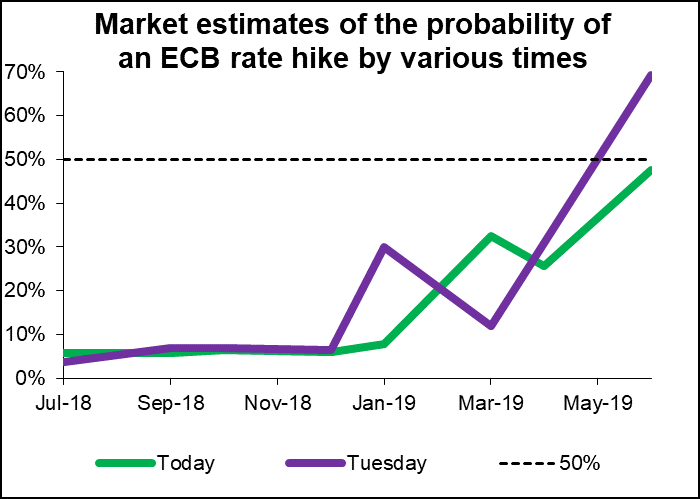 Elsewhere, the dollar was generally strong after US retail sales came in better than expected (+0.8% mom vs +0.4% expected; previous revised up to +0.4% mom from +0.3%).
Overnight: Bank of Japan meeting
Overnight there will also be a Bank of Japan Monetary Policy Board meeting. I expect much less drama from the BoJ than the Fed or the ECB. Frankly…these meetings are getting boring. The last major change they implemented was in Sep. 2016, when they added "Yield Curve Control" (YCC) to their "Quantitative and Qualitative Monetary Easing" (QQE) program.
As you can see, inflation is going nowhere in Japan. Despite the years and years of ZIRP (zero interest rate policy) QQE, negative interest rates, and YCC, inflation is still DOA. In fact the inflation rate has started to turn down again. This may explain why at their last meeting the MPC stopped predicting when they would hit their increasingly irrelevant inflation target.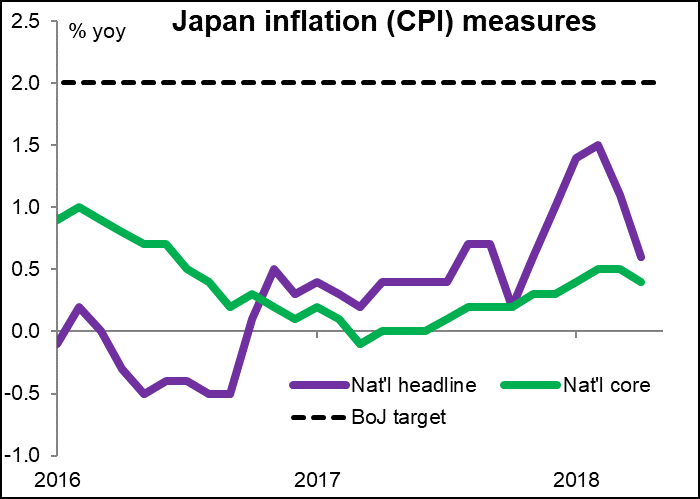 Therefore one change I see possible at this meeting is that perhaps they will admit to reality and lower their expectations for inflation. The "Outlook for Economic Activity and Prices," released in April, said, "…medium- to long-term inflation expectations are projected to rise as firms' stance gradually shifts toward raising wages and prices with an improvement in the output gap continuing. As a consequence, the year-on-year rate of change in the CPI is likely to continue on an uptrend and increase toward 2 percent."
Here's a graph of medium- to long-term inflation expectations. Do you think they're rising?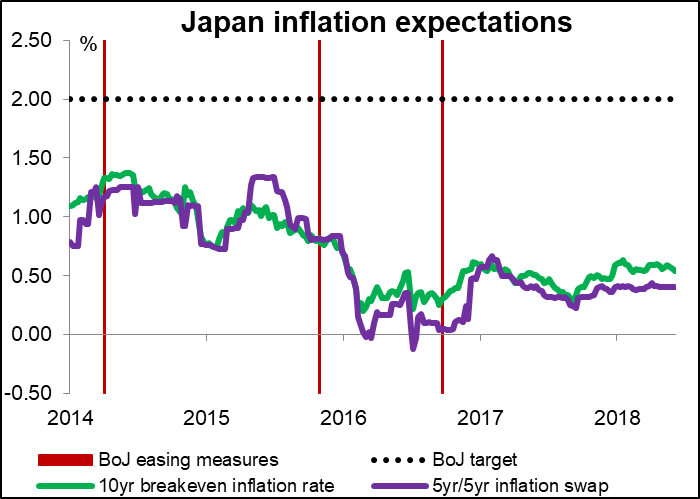 Here's a graph of Japan earnings growth. OK, back in March it looked like they were rising, but then April's figures fell back again. I wouldn't say a 0.8% yoy increase in wages shows that "firms' stance gradually shifts toward raising wages."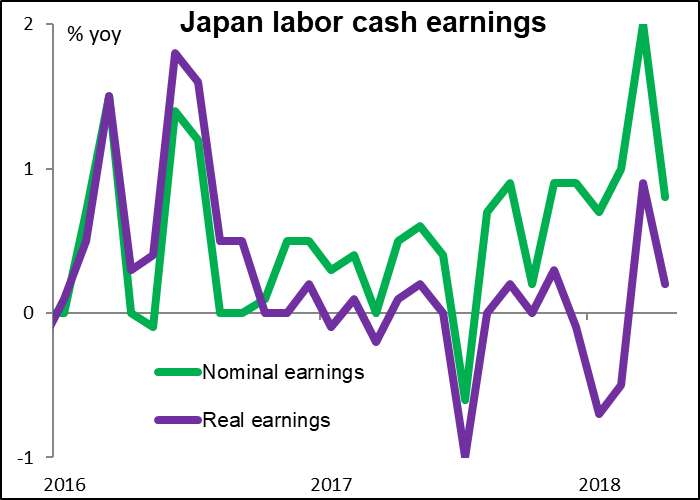 So I think their chain of logic is more a chain of wishful thinking. At this meeting, which will include a slightly more detailed assessment of the economy, or perhaps the next one, which will include an updated Outlook for Economic Activity and Prices, they could throw in the towel and downgrade the inflation outlook in line with reality. This would be a major contrast with the Fed, which is nearing its estimate of "normal" rates, and the ECB, which is starting the normalization process.
Luckily for them, they can hold policy steady and with policy tightening elsewhere, their policy becomes relatively looser. So even if they've run out of tricks, perhaps the Fed and the ECB will come to their rescue.
One other possible change: a cut in their monthly bond purchases. At the end of May, they cut their purchases of 5-to-10-year JGBs by ¥20bn (to ¥430bn from ¥450bn). Then yesterday they cut their purchases of 3-to-5-year JGBs by ¥30bn (to ¥300bn from ¥330bn). They are currently pledging to conduct purchases "at more or less the current pace" to increase their holdings by ¥80tn a year, or a net ¥6.67tn a month. Even with the small decrease in purchases recently, they've had no trouble achieving their target of maintaining the 10yr JGB yield "at around zero percent."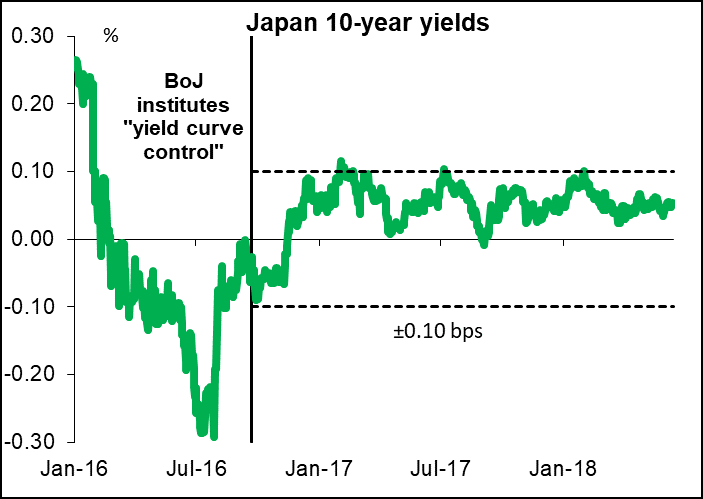 In any event, FX volatility on BoJ days recently has tended to be below average. That's probably because the market refrains from taking positions ahead of the meeting just in case something happens, and then has no reason to take any new positions afterwards since nothing did happen. I don't see any major reason why this meeting should be any different.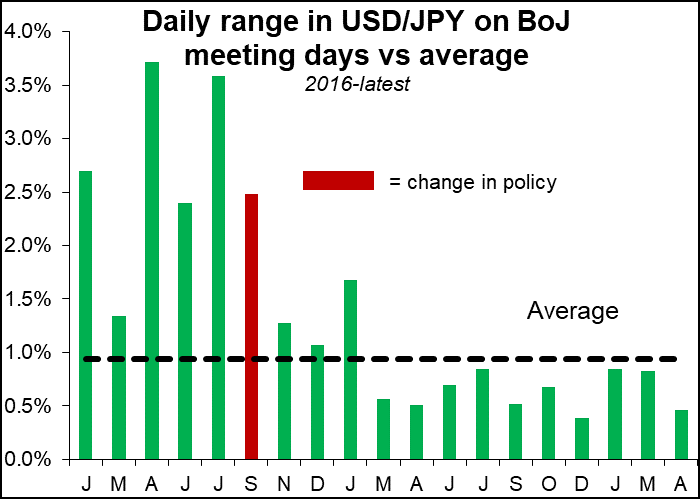 ---
P.S. Did you like my article? Share it in social networks: it will be the best "thank you" :)
Ask me questions and comment below. I'll be glad to answer your questions and give necessary explanations.
Useful links:
I recommend trying to trade with a reliable broker here. The system allows you to trade by yourself or copy successful traders from all across the globe.
Telegram channel with high-quality analytics, Forex reviews, training articles, and other useful things for traders https://t.me/liteforex
The content of this article reflects the author's opinion and does not necessarily reflect the official position of LiteForex. The material published on this page is provided for informational purposes only and should not be considered as the provision of investment advice for the purposes of Directive 2004/39/EC.