Market Recap
The European Central Bank (ECB) announced the end of its quantitative easing (QE) bond purchases. They will continue buying €30bn a month until the end of September, after which they'll reduce it to €15bn a month until end-December, then stop net purchases.
Note though that they hedged their bets by saying the end of the program was "subject to incoming data" that would confirm their outlook for inflation. Contrast this with the change in the FOMC's comment Wednesday, when they removed the section saying that rate hikes were dependent on the economy performing as expected. Thus the ECB's policy stance is still far more dovish than the Fed's.
Furthermore, the ECB said it expects rates "to remain at their present levels at least through the summer of 2019" and in any case for as long as necessary to get inflation back on track. This statement shocked the markets as it was the first time that the ECB has committed to a rate policy for a specific period of time. (It did have a time-based commitment for its asset purchases). Up to now it has always refused to "pre-commit" to any action on rates and stressed that its commitments were data-dependent.
Moreover, ECB President Draghi said the Council didn't even discuss when to start raising rates. So while they are ending their bond purchases, they seem in no rush to start raising rates any time soon. On the contrary, Draghi noted that "significant" stimulus is still needed to build up inflationary pressures. Thus the ECB will continue to reinvest maturing debt, in contrast to the Fed, which has for months now been reducing the size of its balance sheet. Furthermore, Draghi reiterated his usual statement that "the Governing Council stands ready to adjust all of its instruments as appropriate," meaning it's all still data-dependent and that they could even restart bond purchase if necessary, at least theoretically.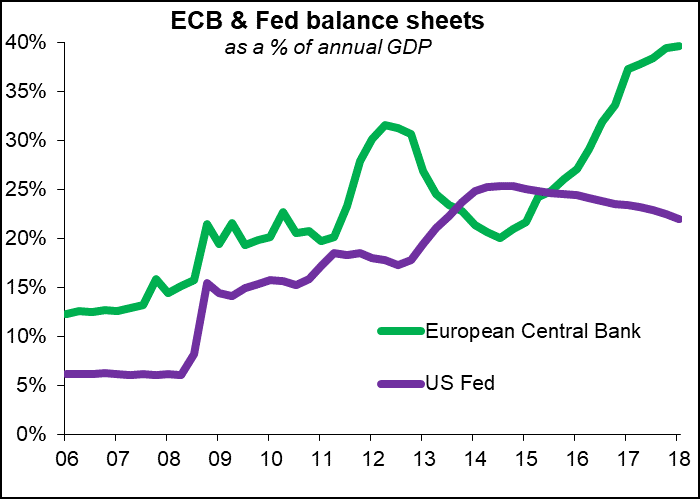 The news was a surprise to many investors –only 30% of respondents to a Bloomberg poll expected them to announce the end of the QE program at this meeting, while I would guess few if any people expected any forward guidance on rates yet.
While the announcement of an end to the QE program may have come earlier than many people expected, the pledge to keep rates unchanged "at least through the summer of 2019" means rates will stay low for longer than had been previously expected. It also means the risk on rates is only in one direction – it's possible that the ECB tightens later than investors had thought, but it's no longer possible to tighten earlier. Estimates of when the ECB would start hiking rates collapsed.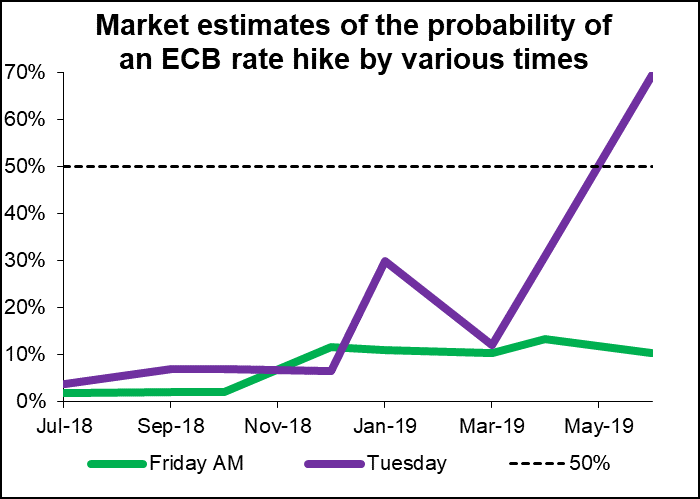 The market now sees a higher likelihood of a cut in rates by mid-2019 than a hike.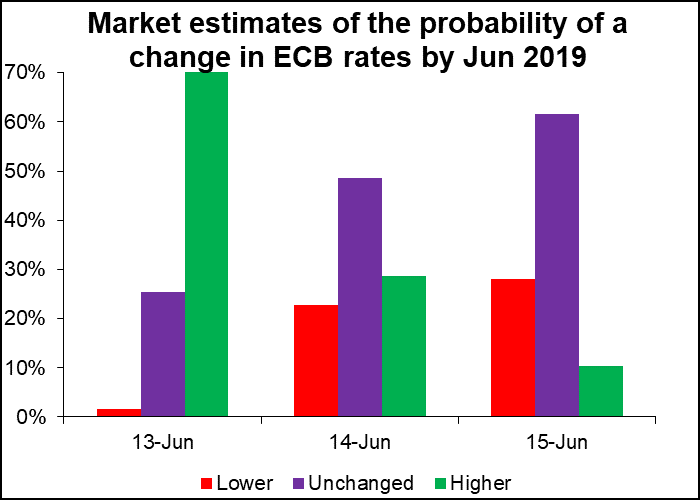 That hit the currency and EUR was sharply lower on the news. USD by contrast soared as the monetary policy divergence theme came roaring back.
Just as the European day begins, the Bank of Japan finished its Monetary Policy Board meeting. As expected, they didn't do anything concrete – they maintained their policy rate and bond yield at the existing levels and retained the ¥80tn annual bond-buying target even though they haven't actually been hitting it recently. They are no doubt wary of even hinting that they might be withdrawing stimulus from the economy. They did accept reality and downgrade their assessment of inflation – they now see core CPI in a range of 0.5% to 1.0%, whereas previously it had just been 1.0%, although they still imagine that it's likely to trend upwards towards the fabled 2%.
The contrast between the BoJ, the ECB and the Fed couldn't be sharper. The Fed is approaching normal policy, the ECB is starting on the road to normalizing policy, and the BoJ is wary of even hinting that it might normalize policy. Thus it'll be no surprise if JPY weakens vs USD and EUR over the longer term.
Elsewhere, CAD and the other commodity currencies slipped. I assume this is because Trump approved tariffs on about $50bn worth of Chinese goods, signaling that the global trade war is about to begin. You can see from the graph how USD/CAD has tracked the Shanghai stock market index recently.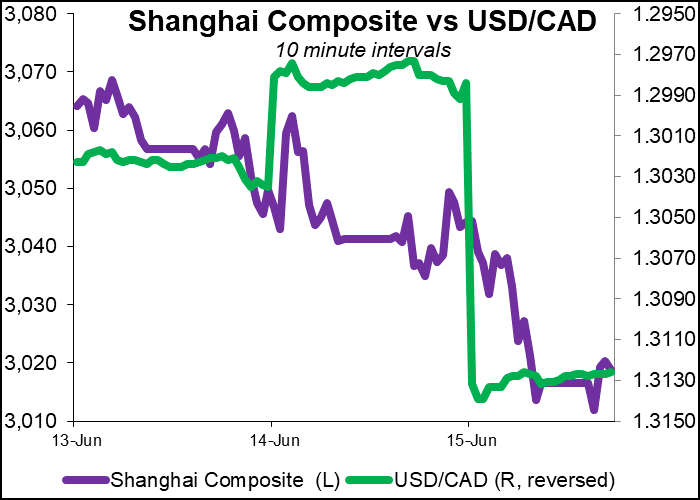 Today's market
Finally, after a busy busy week, we get a relatively calm day.
The highlights of the day may be two speeches by central bank officials.
The European day starts with a speech by ECB Executive Board member Benoit Coeure at a "Chief Investment Officer – Chief Financial Officer" conference. No idea what he'll be speaking about. With luck we may get more insights into yesterday's surprise ECB decision.
Then later in the day, Dallas Fed President Robert Kaplan speaks at an event in Texas. While there won't be a text of his speech, there will be a Q&A session with both the audience and media. This is likely to give us further insights into Wednesday's FOMC meeting.
As for the indicators, Canada manufacturing sales are forecast to slow after two above-trend months. Nonetheless, the expected pace of growth is enough to raise the six-month moving average. That suggests the rising trend in sales is still intact, which should be positive for CAD.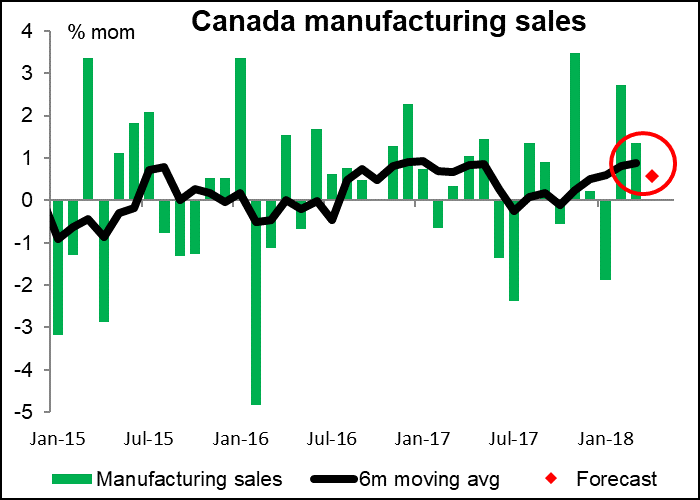 The Empire State manufacturing survey kicks off the monthly Fed surveys for June. It's expected to be down slightly but still at a relatively high level. In May, all five regional Fed surveys plus the Chicago national survey all rose, which is quite unusual. Some decline in these manufacturing sentiment indices was to be expected. A gradual decline shouldn't be any big case for concern as long as they don't collapse. On the contrary, sentiment remains firmly in expansionary territory, so it should be neutral to good for the dollar.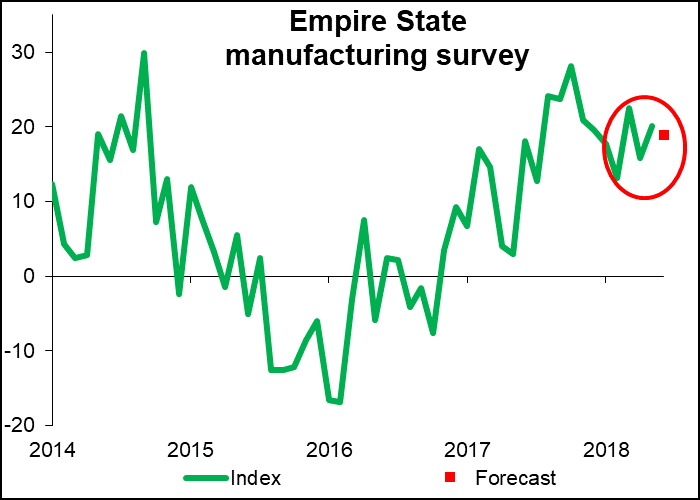 The US industrial production data for May will be released shortly afterwards. This is expected to show a marked slowdown after three months of fairly robust growth. The monthly employment figures showed that factory hours worked fell during the month, while manufacturing jobs gained were below the recent average. Also auto sales were weak in May, which means auto companies probably slowed production. This figure could be negative for USD.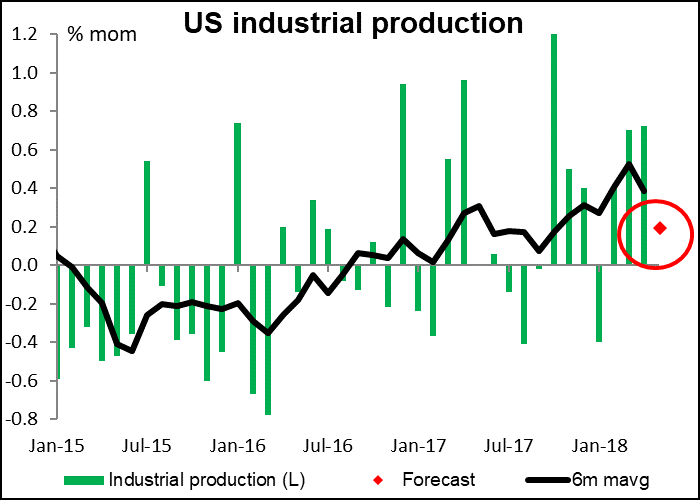 Finally, the U of Michigan consumer sentiment survey is expected to show a small improvement in sentiment for June. With the stock market rising and the unemployment rate falling – the two major determinants of consumer sentiment – that seems entirely possible. The improvement, modest though it may be, should be positive for the dollar as it would suggest that the trade disputes that are roiling financial markets don't necessarily bother the average individual.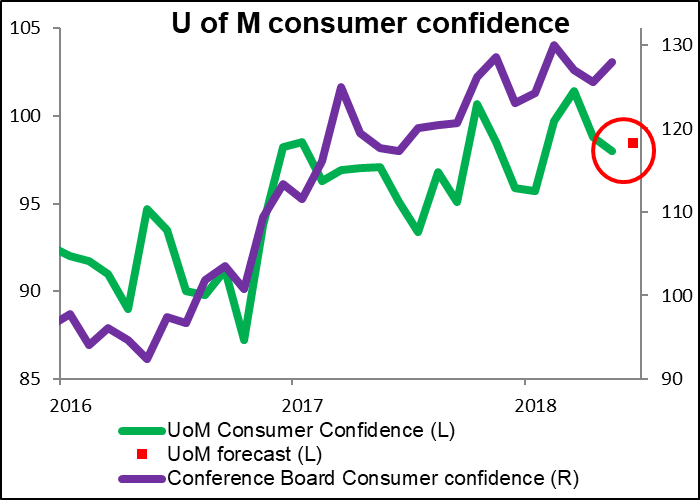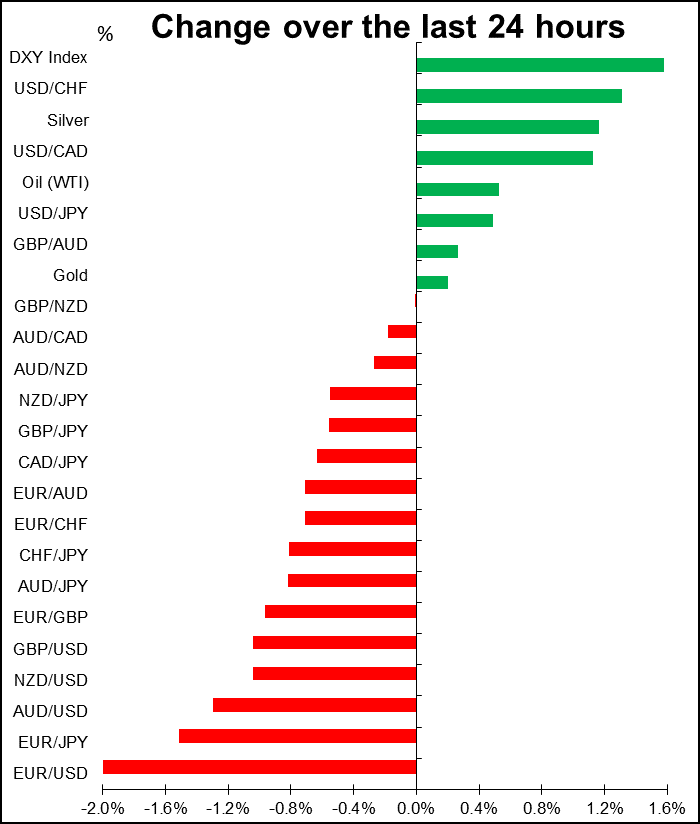 ---
P.S. Did you like my article? Share it in social networks: it will be the best "thank you" :)
Ask me questions and comment below. I'll be glad to answer your questions and give necessary explanations.
Useful links:
I recommend trying to trade with a reliable broker here. The system allows you to trade by yourself or copy successful traders from all across the globe.
Telegram channel with high-quality analytics, Forex reviews, training articles, and other useful things for traders https://t.me/liteforex
The content of this article reflects the author's opinion and does not necessarily reflect the official position of LiteForex. The material published on this page is provided for informational purposes only and should not be considered as the provision of investment advice for the purposes of Directive 2004/39/EC.