Market Recap
The dollar is up against most G10 currencies, particularly EUR, compared to its opening levels in Europe. US Treasury yields are mostly unchanged.
It looks like Italy's problems are starting to have an effect on the markets. Not only are the two parties are still struggling to reach agreement on forming a coalition, but one of the points they seem to be discussing is whether to ask the ECB for debt forgiveness. Cress was bad enough, but Italy is the largest bond market in Europe, with EUR 2.4tn in bonds outstanding. One politician said they are discussing an EUR 250bn write-off. Would that be enough, or just the first step? Italian stocks were also down sharply (around 2.5%).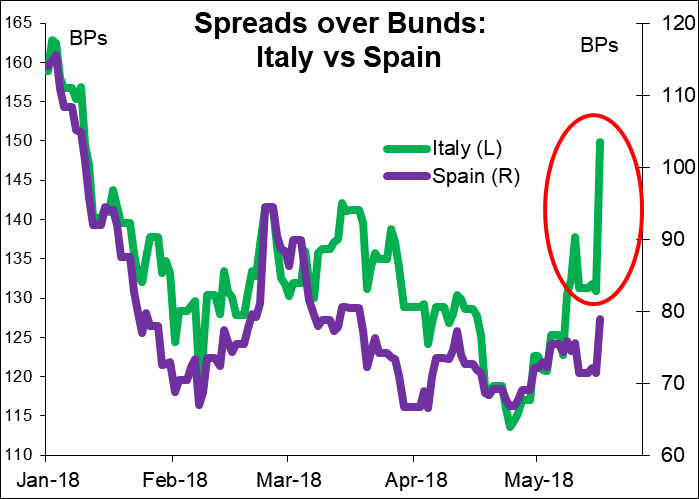 On the other hand, NZD was the strongest currency in the European afternoon, following below-expectations wage growth data in Australia. That news supported the idea that Australian rates would be on hold and induced some profit-taking in AUD/NZD.
Today's market
St. Louis Fed President James Bullard (non-voter) will speak with the media prior to delivering welcome remarks at an annual event hosted by his bank. He's on the dovish side. We heard from Bullard on Monday when he spoke at a blockchain technology conference. Bullard is generally on the dovish side. He said then he thought "the Fed does not need to be so aggressive that we invert the yield curve," because inflation is relatively low and stable.
Overnight, Japan releases its machinery orders. This is maybe my least favorite indicator. It's important for the Japanese economy, because it's a good indicator of investment. Nonetheless, the forecasts are notoriously unreliable, because a) it's amazingly volatile, and b) it's totally impossible to predict. There's absolutely nothing that can be used to make a stab at the Japanese machinery orders. Economists' forecasts are really nothing more than guesses. Having said that, economists are guessing predicting a decline from the previous month, causing a precipitous decline in the yoy rate of increase, which in any case fluctuates wildly. This would be in line with the news from the Q1 GDP report, which showed an unexpected fall in capital investment in Q1.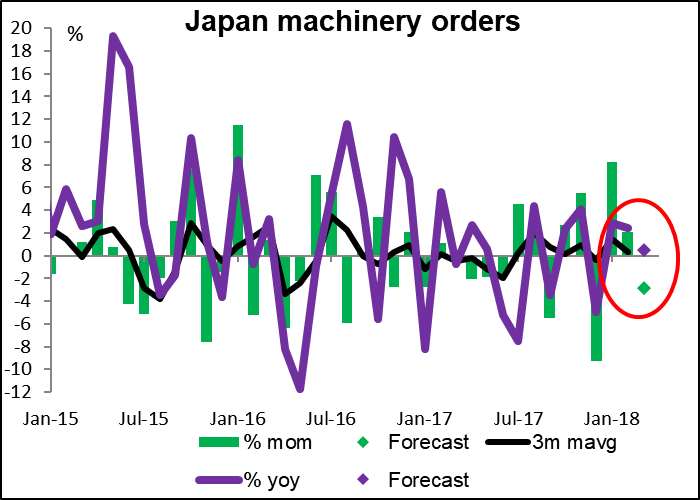 Australia's unemployment rate is expected to remain stable at 5.5% for the fourth month in a row, and the number of new jobs is expected to rise by 20k. Funny, these were the exact same forecasts last month! It looks like analysts are expecting employment growth to continue trending lower, as it has been recently after the record-breaking 16 consecutive month string of increases. Against that background, the expected rise in employment would be quite healthy. That should be positive for AUD, in my view.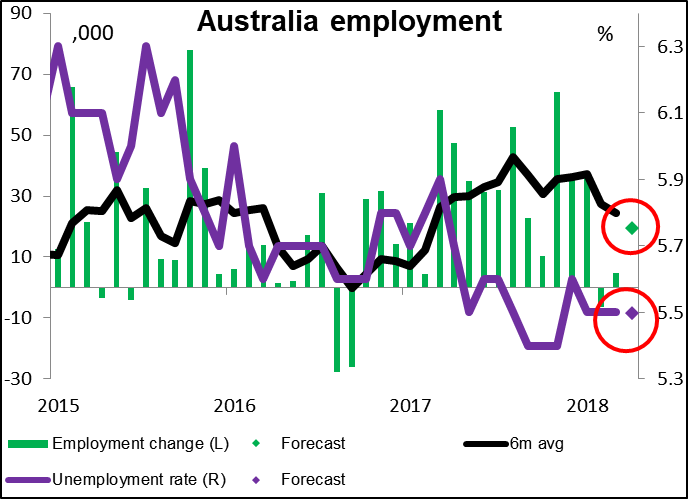 New Zealand Finance Minister Grant Robertson will present the new Labour government's first budget. The broad macro parameters of the Government's fiscal policy have already been laid out – their borrowing plans are constrained by their pledge to reduce core net debt below 20% of GDP by 2021 - so attention will focus on any microeconomic policy announcements, plus the Treasury's updated economic forecasts.
---
P.S. Did you like my article? Share it in social networks: it will be the best "thank you" :)
Ask me questions and comment below. I'll be glad to answer your questions and give necessary explanations.
Useful links:
I recommend trying to trade with a reliable broker here. The system allows you to trade by yourself or copy successful traders from all across the globe.
Telegram channel with high-quality analytics, Forex reviews, training articles, and other useful things for traders https://t.me/liteforex
The content of this article reflects the author's opinion and does not necessarily reflect the official position of LiteForex. The material published on this page is provided for informational purposes only and should not be considered as the provision of investment advice for the purposes of Directive 2004/39/EC.