Market Recap
Quite clearly it was the euro's day. A number of ECB bigwigs, including Chief Economist Peter Praet, Bundesbank President Jens Weidmann and Dutch Central Bank President Klaas Knot all confirmed that the ECB would at its 14 June meeting begin discussing an end to its quantitative easing (QE) program. Praet said specifically that "next week the Governing Council will have to assess whether progress so far has been sufficient to warrant a gradual unwinding of our net purchases." Weidmann said market expectations of an end to asset purchases before the end of the year were "plausible," while Knot said it was "reasonable to announce the end of the net asset purchases soon," since inflation is getting back to their 2% target, has been "stable" for some time and is less dependent on monetary stimulus.It's worth looking a bit more deeply at Praet's logic. The ECB has specified three critiera for deciding when to end its QE program: inflation back to its target of "below, but close to, 2%"; it should be stable around that level; and this convergence should be "self-supported," i.e. not dependent on continued monetary stimulus. Praet said:
Signals showing the convergence of inflation towards our aim have been improving, and both the underlying strength in the euro area economy and the fact that such strength is increasingly affecting wage formation supports our confidence…as for the third criterion, resilience, waning market expectations of sizeable further expansions of our programme have been accompanied by inflation expectations that are increasingly consistent with our aim."
We can see from the graph below that inflation has indeed come back to "below, but close, 2%" (headline inflation in the Eurozone was estimated at 1.9% yoy in May) and inflation expectations have been quite stable around 1.7% yoy, i.e. "below, but close to, 2%" (as measured by ECB President Draghi's preferred gauge, the 5yr/5yr forward inflation swap). So all that has to happen for them to meet their criteria is for them to judge that this is sustainable, and Bob's your uncle, as they say in Britian.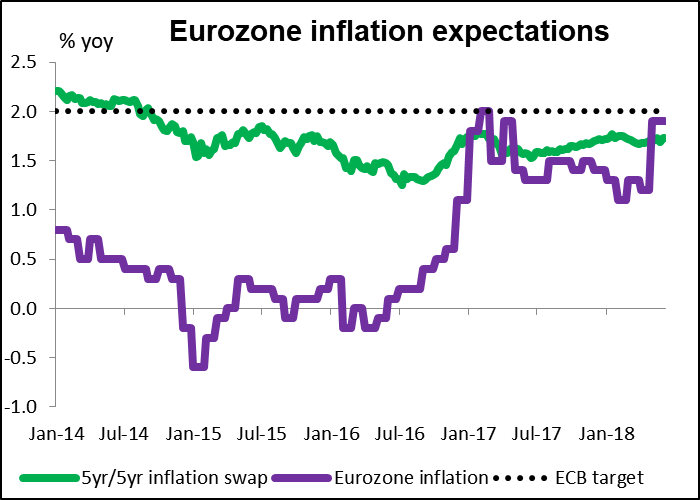 What confuses me slightly is that despite the strong hints of an end to the ECB's QE program, the market actually pushed out interest rate expectations yesterday. This is despite comments by Estonian Central Bank Governor Ardo Hansson that although the market expects rates to start rising from the middle of next year, "the exit could be a bit faster" than the market expects if the ECB is sure about inflation. I expect this change in expectations to be reversed in the near future and for EUR to gain even more.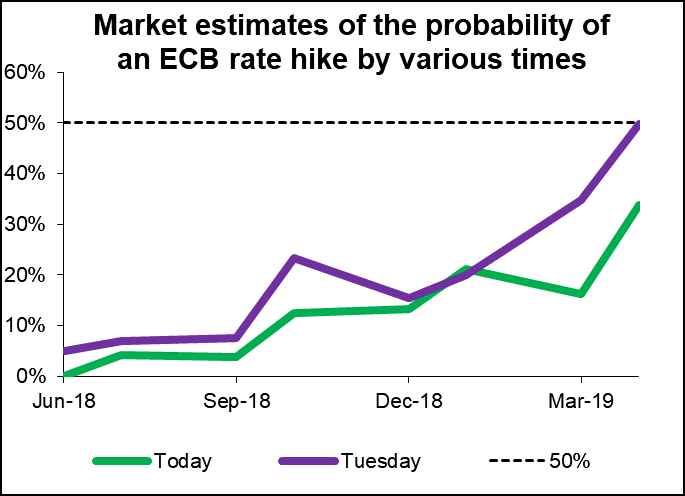 Aside from EUR, the main theme in the market was back to risk-on, with the result that USD and the safe-haven JPY and CHF all declined. GBP was little changed vs USD but down on a trade-weighted basis because of the strong EUR.
Today's market
The day starts with German factory orders. (I discussed these yesterday just in case this report doesn't make it to you before the figures come out.) Last month's figure was a surprising decline in orders; this month a rebound is expected. The April Ifo survey indicated that manufacturers' order books are still rather full. Even if domestic orders are down a bit, foreign orders are likely to be up. Nonetheless, I think the modest size of the rebound after three months of decline could indicate waning momentum for the economy and therefore be taken as negative for the euro.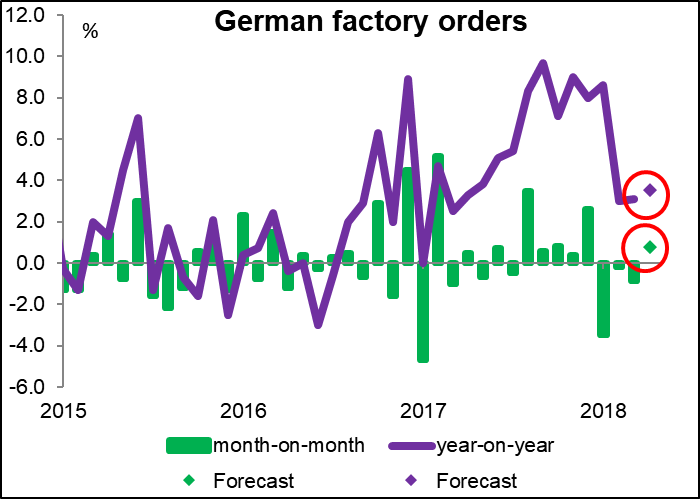 The third and final version of EU GDP is likely to be unchanged from the previous version, so no impact likely.
Dave Ramsden, Bank of England's Deputy Governor for Markets and Banking, will make a speech at the Barclays Inflation Conference. As usual, no details available ahead of time, not even a title of the speech. My guess: he'll be talking about inflation and monetary policy. The last thing he said was in a recent interview with Bloomberg, when he said "We've always made clear that the ultimate policy choices would be determined by the data."
Overnight, Japan announces its current account data. Japan's current account surplus is expected to rise on a seasonally adjusted basis, which is not the direction the US administration wants to see it moving. That could be positive for the yen.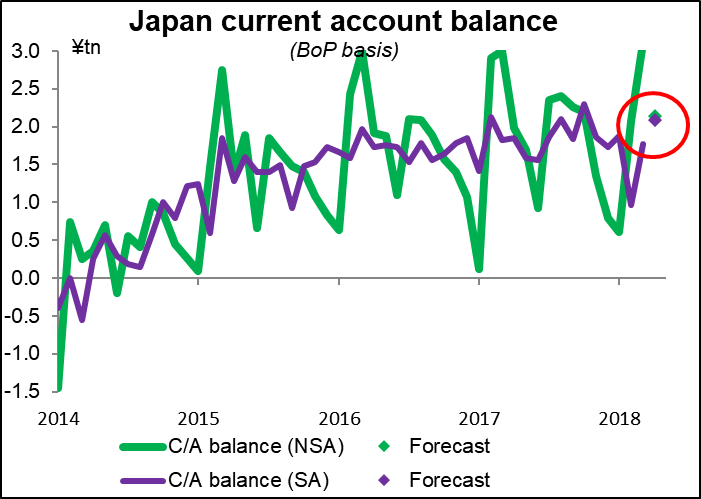 Japan also announces its revised Q1 GDP figure. Unlike many other countries, Japan only issues a preliminary and a final version, not three different versions. The initial figure is released about one month after a particular quarter ends and the second preliminary estimate is released about a month after that. There's an annual revision though that comes about nine months after the end of the fiscal year (31 March), so in December of that year or January of the next. Although the figures are often revised, studies have shown the revisions don't seem to have any bias – over time they average out to zero.
In any case, this time the qoq figure is expected to be unchanged at -0.2% qoq, but the qoq SAAR figure is expected to be revised up slightly to -0.5% from -0.6%. Unusually, this is not due to any difference in the number of economists making the estimate as it's the same 10 economists for both. So apparently they're expecting a small improvement in the second decimal place of the qoq figure. This is highly unlikely. Since 2010, the average revision has been ±16 bps and the median has been ±10 bps (using the absolute value of the revisions). Thus no change to the initial qoq SA figure would be unusual. However, since the revisions are fairly random, the initial estimate may be as good a guess as any other.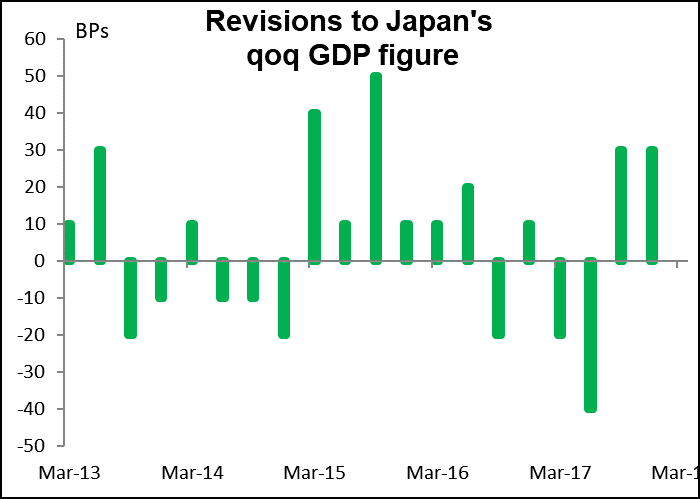 China announces its trade figures, which of course are becoming increasingly important as the Trump administration flails around trying to find a China trade policy. The bottom line here is that the surplus is expected to rise as growth in both imports and exports slows. Although the increase in the surplus isn't expected to be very much, the direction is definitely wrong and suggests further pressure. That should be negative for the dollar, in my opinion, as the trade war is likely to result in the US shooting itself in the foot.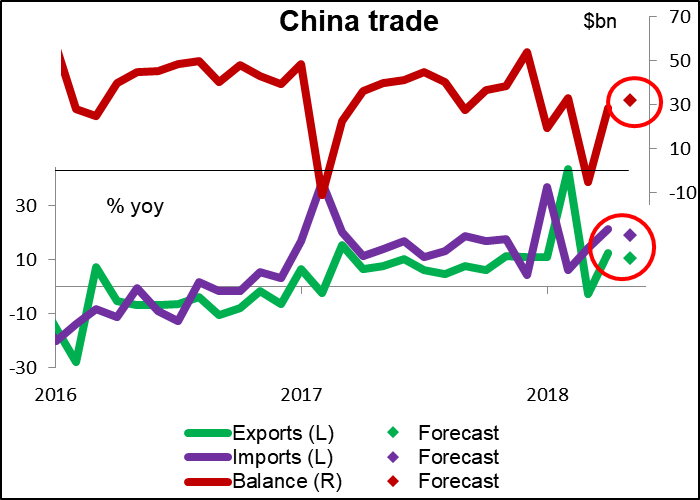 Early in the European day Friday, perhaps before I get this comment out, Germany announces its trade data too. The German trade surplus jumped in March but is expected to fall back to trend, which could be negative for EUR if investors feel that takes some pressure off of Germany to cut back exports.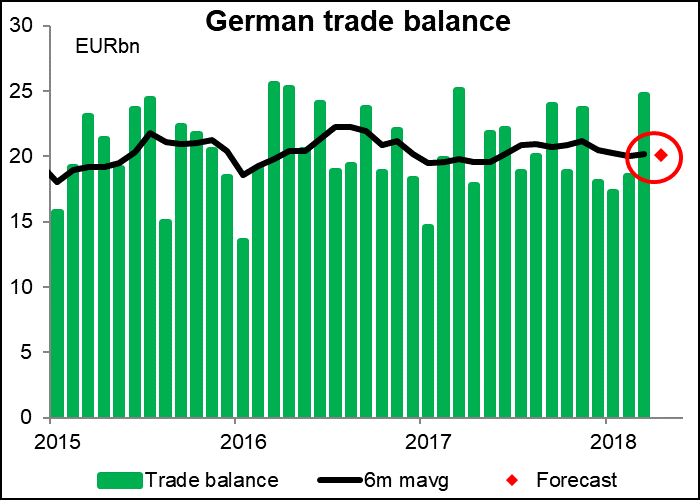 Germany's industrial production, which will be released at the same time, is forecast to show only a small mom increase and a slowdown in the yoy rate of growth. They should be considered along with the factory orders figure that came out Thursday morning. EUR-negative.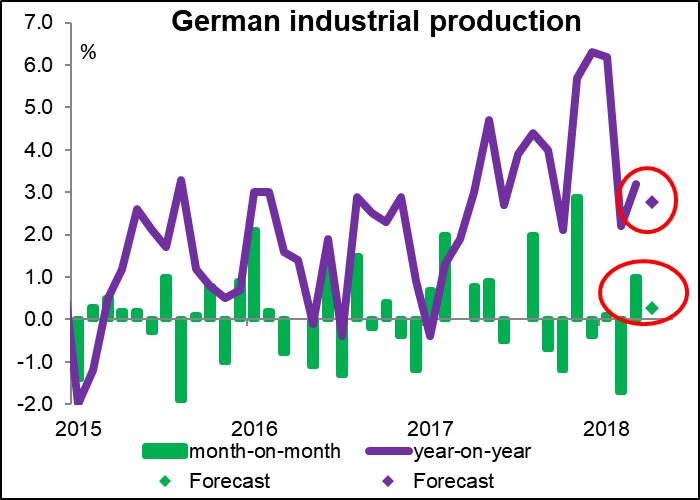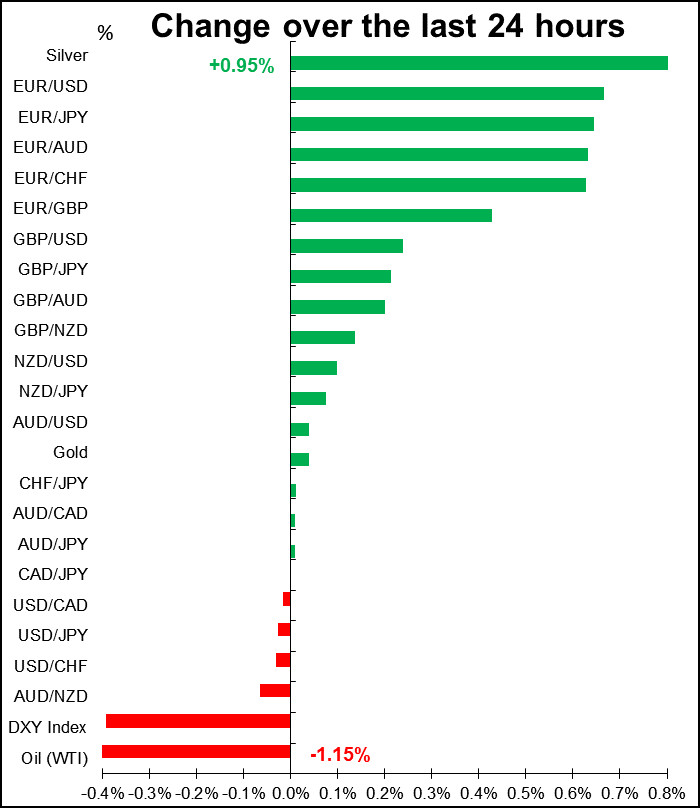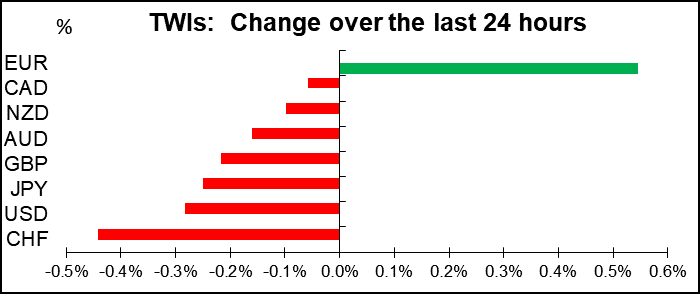 ---
P.S. Did you like my article? Share it in social networks: it will be the best "thank you" :)
Ask me questions and comment below. I'll be glad to answer your questions and give necessary explanations.
Useful links:
I recommend trying to trade with a reliable broker here. The system allows you to trade by yourself or copy successful traders from all across the globe.
Telegram channel with high-quality analytics, Forex reviews, training articles, and other useful things for traders https://t.me/liteforex
The content of this article reflects the author's opinion and does not necessarily reflect the official position of LiteForex. The material published on this page is provided for informational purposes only and should not be considered as the provision of investment advice for the purposes of Directive 2004/39/EC.