Market Recap
A comparatively quiet day as regards market movements; most currencies moved less than ±0.2% on a trade-weighted basis, which is less than usual.
The big stand-out was obviously GBP, which jumped higher after the Markit/CIPS US services PMI rose even more than expected (54.0 vs 53.0 expected, 52.8 previously). Markit said the figure "signalled a solid upturn in overall business activity across the service economy." This is quite important, as the service sector is far and away the biggest part of the UK economy. In fact all three UK PMIs beat expectations this month, with both the manufacturing and service-sector PMIs rising (construction was unchanged). This has led to thoughts that perhaps the UK economy is pulling out of its Q1 slump.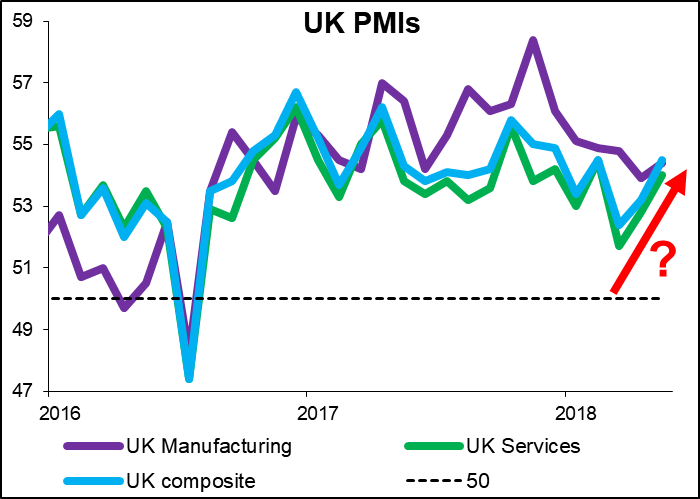 Markit noted that there was a "sharp rise in input costs, driven by higher fuel bills and staff salaries." Higher salaries – shock horror! – will raise fears that the Bank of England risks falling behind the curve. The odds of a rate hike at the August meeting rose to 46% -- i.e.,, almost 50-50 -- from 35% before the PMIs came out. For the time being, economics may underpin GBP, but I continue to think that the narrative for the currency is a political story, not an economic story, and what happens with Brexit is likely to be negative.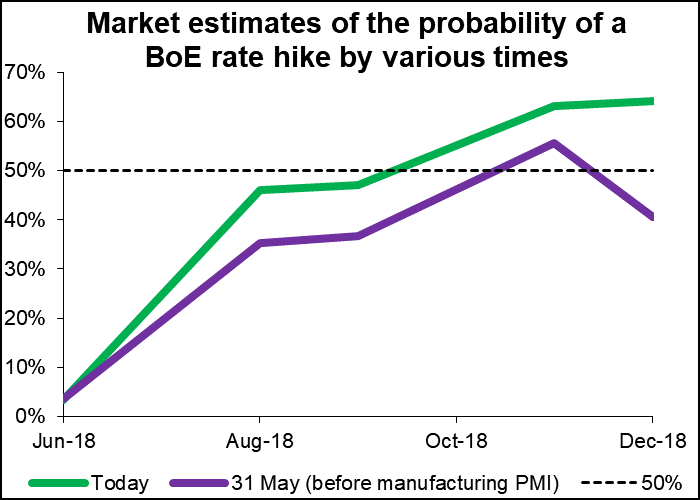 USD was weaker despite important economic news: the Job Openings and Labor Turnover Survey (JOLTS) report came in even higher than expected, meaning that job openings now exceed the number of unemployed persons (as I noted yesterday that they would – pardon me if I can't help mentioning that). This supply/demand imbalance in the labor market should in theory at least continue to push wages higher, which means the Fed is likely to keep raising rates. The JOLTS report is yet another piece of US data that shows an improving economy relative to both April and relative to consensus estimates, including the ISM indices (both manufacturing and non-manufacturing) and all five Fed surveys.
The dollar's weakness may have stemmed from a "risk on" mood as US stocks recovered, or perhaps the lower US yields owing to a "flight to safety" out of peripheral Europe, or perhaps the growing trade war – Mexico yesterday joined Canada in announcing retaliatory tariffs on US imports.
In fact, it's surprising to me that the dollar didn't do better and the euro do worse. Italian bond yields popped higher again after the new Italian PM, Giuseppe Conte, made a speech in which he outlined the new government's goals – most of which mean more spending and less revenue. This includes a "citizen's income," a two-tiered flat tax, increased health spending and a reduction in government debt through growth rather than austerity – good luck with that one!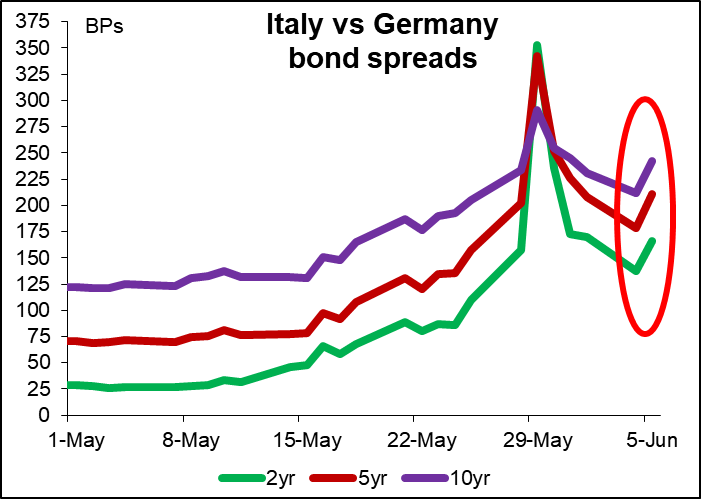 Furthermore, the final reading of the Eurozone composite PMI was unchanged from the initial reading, as expected. This means it fell for the fourth consecutive month and is now at its lowest since Nov. 2016 as both the manufacturing and service-sector PMIs fall. This puts the ECB in a quandary for next week's meeting: survey-based measures of growth have continued to slow since the last staff projections, but inflation has been higher than expected. Bloomberg reported yesterday that the upcoming 14 June ECB meeting could feature a debate on when to exit from QE (as I think most people had assumed). The contradictory indications complicate the ECB's task and make it more likely that they'll wait until the 26 July meeting to make a decision. That would be EUR-negative.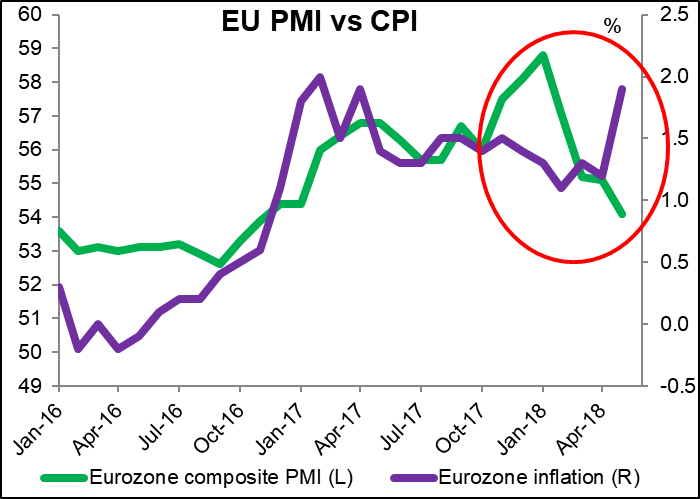 AUD slipped during the European day but then gradually started to recover as the US came in. It lept higher when 1Q GDP beat estimates (+1.0% qoq SA, vs +0.9% expected – previous revised up to +0.5% from +0.4%).
Today's market
The day starts with ECB Chief Economist Peter Praet talking to the International Congress of Actuaries. He talks frequently nowadays so he's not likely to move the markets.
Bank of England Monetary Policy Committee (MPC) member Silvana Tenreyro makes her second speech of the week, this time during a visit to Northern Ireland. She just spoke on Monday so again, I don't expect anything earth-shaking. On Monday she said that while she expected "a few rate rises" over the next three years, "the costs of waiting a short period of time for more information were small." In other words, no rush to hike rates in May, as the market had previously expected; they can wait one or two quarters and still get inflation back to their target on time.
Canada's merchandise trade deficit is expected to narrow notably, but still show a widening trend. Last month was unusual in that there was a huge increase in imports (imports rose 9.2% yoy vs +3.6% yoy the previous month), which isn't likely to be repeated this month. Nonetheless, the overall trend is worrisome for CAD, and likely to be only more worrisome in the future as US tariffs begin to bite and Canada implements its own tariffs on US imports. CAD negative.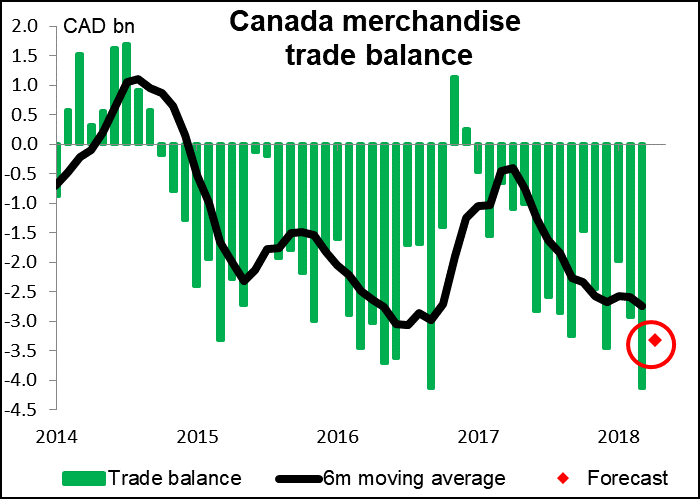 The US trade deficit is expected to widen slightly from the previous month but still be considerably narrower than it was in Q1. That should be good news for USD. However this indicator usually tracks the advance trade data fairly closely and so is not that big a market-mover.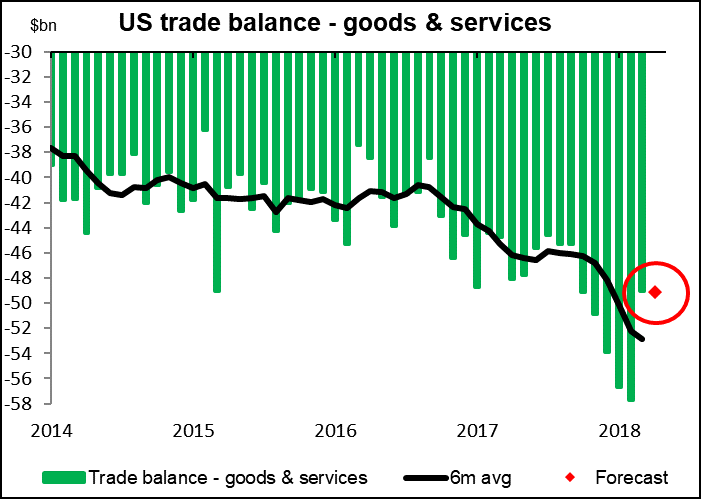 Bank of England MPC member Ian McCafferty will participate in a phone-in on LBC Radio. McCafferty is one of the BoE's hawks; he and Michael Saunders voted at the last meeting to raise rates by 25 bps. His term on the MPC ends at the end of August, so he has only two more meetings to go. Since the market puts only a 39% probability on a rate hike by then, it means his views probably aren't going to win out. McCafferty will be replaced by Professor Jonathan Haskel, an expert on productivity. Observers are mixed on whether Haskel is likely to continue McCafferty's hawkish views or vote with the majority to keep rates steady.
Overnight, Australia announces its trade balance. Remember that Wednesday morning, GDP growth jumped thanks to an increase in net exports. The trade surplus is expected to fall significantly however. The import bill is expected to rise along with the rise in oil prices. Prices of exports on the other hand probably fell, such as coal and iron ore. This worsening in the terms of trade for Australia is likely to be negative for AUD.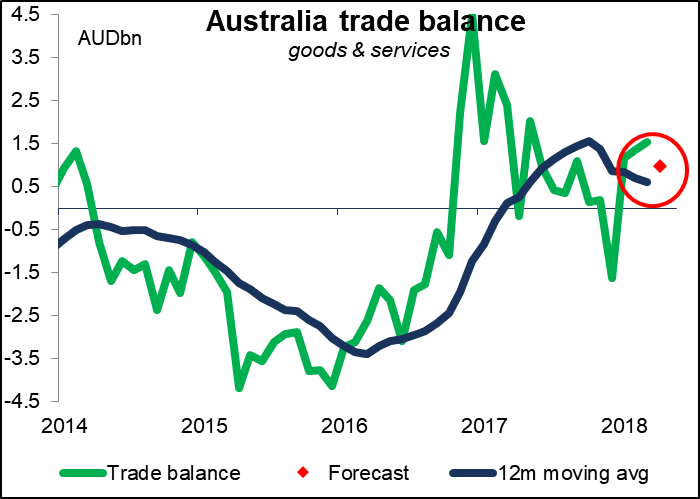 And early Thursday morning in Europe, possibly before I get this comment out, Germany announces its factory orders. Last month's figure was a surprising decline in orders; this month a rebound is expected. The April Ifo survey indicated that manufacturers' order books are still rather full. Even if domestic orders are down a bit, foreign orders are likely to be up. Nonetheless, I think the modest size of the rebound after three months of decline could indicate waning momentum for the economy and therefore be taken as negative for the euro.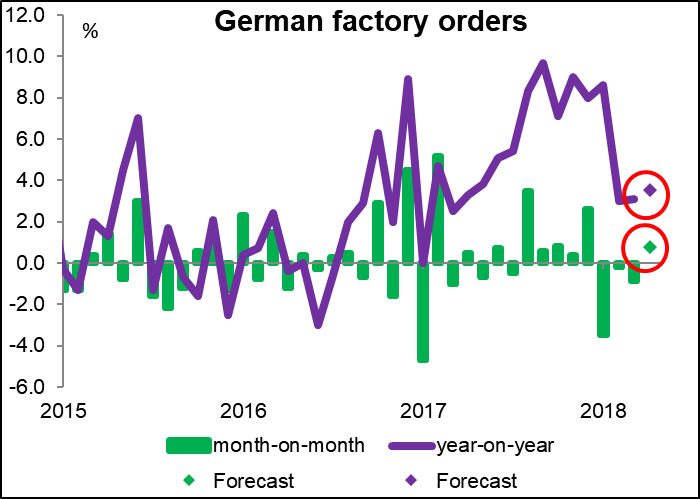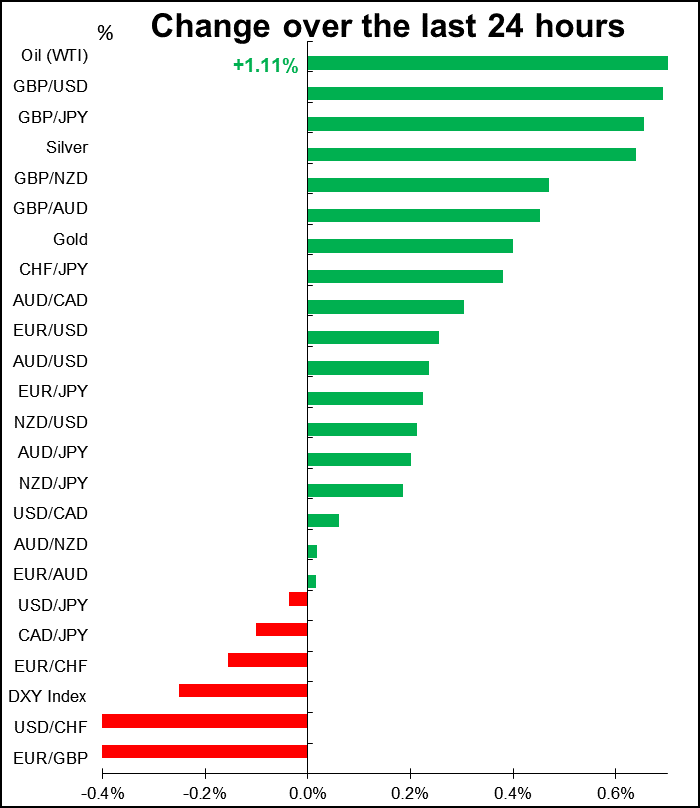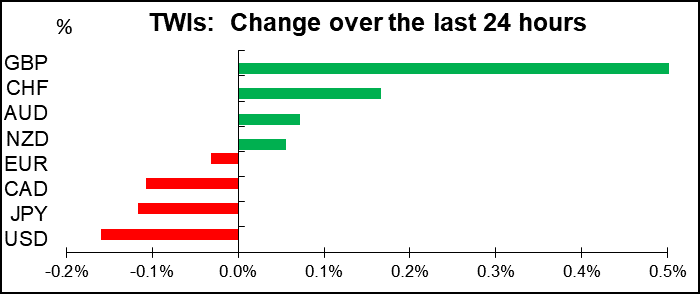 ---
P.S. Did you like my article? Share it in social networks: it will be the best "thank you" :)
Ask me questions and comment below. I'll be glad to answer your questions and give necessary explanations.
Useful links:
I recommend trying to trade with a reliable broker here. The system allows you to trade by yourself or copy successful traders from all across the globe.
Telegram channel with high-quality analytics, Forex reviews, training articles, and other useful things for traders https://t.me/liteforex
The content of this article reflects the author's opinion and does not necessarily reflect the official position of LiteForex. The material published on this page is provided for informational purposes only and should not be considered as the provision of investment advice for the purposes of Directive 2004/39/EC.