Market Recap
It's hard to say where risk is opening this morning. Stocks were generally lower in the US on Friday, but not dramatically so. Today they're mixed in Europe. Oil is slightly lower, which suggests the markets aren't particuilarly concerned about the Syria situation worsening – the US attack seems to have been a limited one-off event and not likely to be the start of a continuing operation. Yet all three commodity currencies are lower.
NZD was the worst-performing G10 currency, which is somewhat of a mystery to me. Reserve Bank of New Zealand (RBNZ) Gov. Orr said the RBNZ "certainly won't be moving away from our focus on prices stability" just because it now has a dual mandate that takes employment into account as well as inflation. That should be an NZD-positive statement, because investors had feared that the new mandate would make them focus less on inflation and keep rates lower for longer in order to boost employment. I wonder though if it could have been taken as NZD-negative, since NZ inflation, due out later this week, is expected to fall to 1.1% yoy, almost out of the bottom RBNZ's 1%-3% target range. At the same time, Orr said that the NZ economy was "near full employment," which means that if they were indeed focusing more on employment, they could start raising rates earlier, since they've achieved one of their two goals. Perhaps focusing on price stability now does mean keeping rates low for longer in NZ.
It could also be that NZD and AUD are still suffering the after-effects of last week's disappointing China import figures, although why that would lead AUD/NZD higher isn't clear; China accounts for 37% of Australia's exports but only 24% of New Zealand's, so if anything, China fears should lead AUD/NZD lower.
It could also just be trimming of positions –the Commitment of Traders report showed that investors are unusually long NZD but quite neutral AUD (see below).
In any event, tonight's China indicators are expected to show a modest acceleration of retail sales and industrial production, which could prove positive for both AUD and NZD (see below).
Note again today that JPY is up and CHF is down. The two have been less correlated recently, perhaps because Japan is suffering from Abe risk, a JPY-positive factor, while CHF is more tied to ECB risk, a CHF-negative factor. I think CHF/JPY could continue to move lower.
GBP gained as investors questioning the ECB's timetable for raising rates sold EUR/GBP.
Commitment of Traders (COT) report
The weekly Commitment of Traders (COT) report showed positioning to be extreme in several currencies. Speculators increased their long EUR positions sharply to be the longest they've been in five years, while total USD shorts were the shortest they've been in five years. GBP, NZD and MXN were also quite long.
Looking at this table, I think speculators could trim their EUR/USD positions, sending EUR/USD lower – as the parade of Fed speakers this week continue their optimistic tone while people reconsider just when the ECB might start changing its monetary policy.
The most surprising thing in the table is of course the net long RUB position even while the currency is plunging. My guess is that it's domestics who are selling at home, while foreign speculators are taking a longer view. Either that, or next week we're going to see a major change in this figure.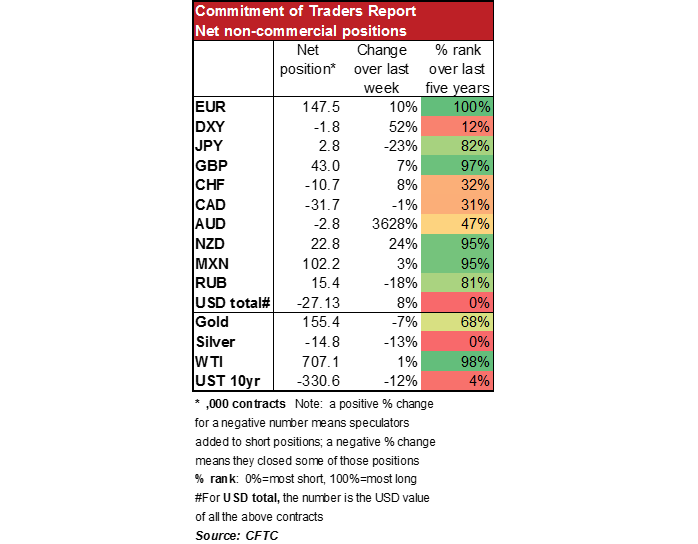 The long WTI and short US Treasury position is a natural long inflation trade. That should also be USD-positive, which makes the extremely short USD position look anomalous – another reason why we could see some recovery in USD.
In precious metals, the moderately long gold position contrasts with the extremely short silver position. We can see from the graph below that this is rather unusual. The graph shows on the one hand the net speculators' positions in gold minus those in silver (the green line) vs the ratio of the price of gold relative to the price of silver (the purple line, inverted). When the price of silver rises relative to the price of gold (i.e., when the gold/silver ratio declines), investors tend to buy more gold relative to silver – in other words, they buy more gold when it's cheap relative to silver, and they buy more silver when it's cheap relative to gold. But right now, gold is very expensive relative to silver (the ratio was 81.37 oz of silver for one oz of gold at the end of the week, near the highest since 2003 of 84.52) but investors are extremely long gold futures relative to silver futures.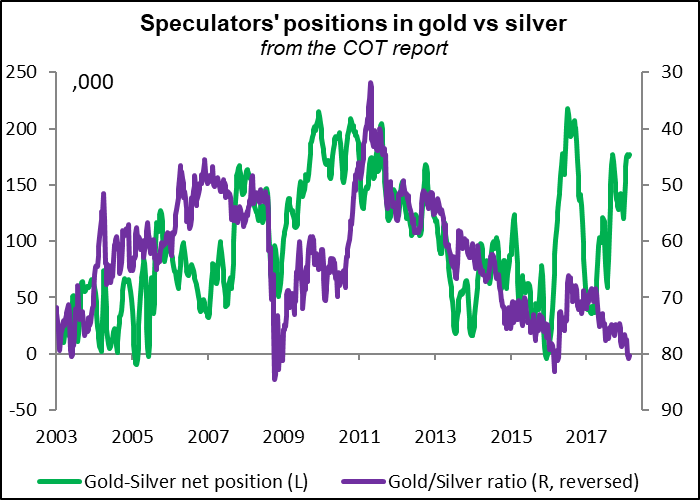 When we last saw a situation like this in 2010, it rectified by silver massively outperforming gold over the next year or so. Of course, past performance is no guarantee of future performance, but I think this is worth keeping in mind.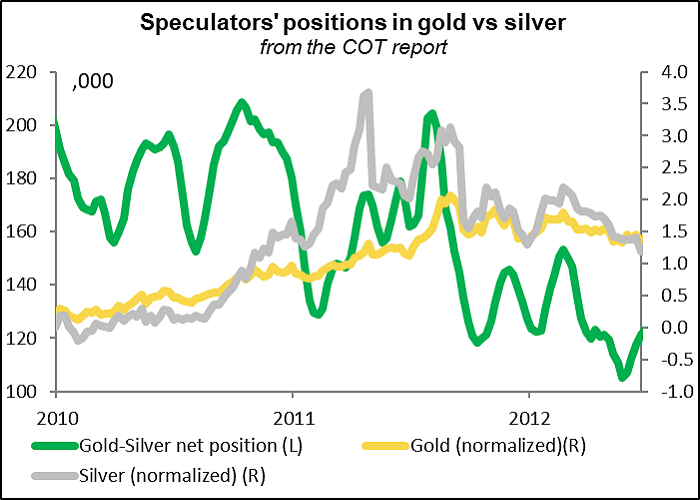 Today's market
Nothing major on the schedule today until the US day starts up. Then we get the US retail sales and Empire State manufacturing index
Retail sales is one of the major indicators for the US economy every month, because so much of the US economy – some 70% -- is private consumption, of which retail sales some 40%. That means retail sales accounts for approximately 28% of the US economy. There are four different versions of this indicator, each one more narrowly focused. The "advance," or headline figure, which includes the most categories, is the most closely correlated with subsequent movements in the exchange rate and so that's the one I focus on.
The headline retail sales number is expected to bounce back after three consecutive months of declines. The driving force here, so to speak, is auto sales, which fell previously but rebounded in March. Still, the market expects a relatively anemic rebound, with sales not even rising at a trend level. Retail sales are likely to rise further in coming months as the impact of the recent tax cuts start to trickle through the economy, but I think investors will want to see that before they believe it. USD-negative.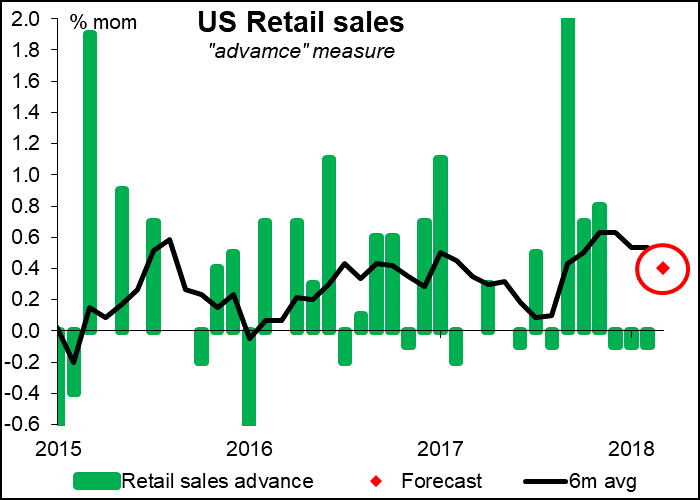 The Empire State manufacturing index is expected to be down slightly. This may be taken as a slight negative for the dollar, but it really shouldn't be – the index is still expected to be solidly in expansionary territory. Oct. 2017 was the recent high for the index, and since it's a diffusion index showing what percent of executives expect output to be higher than expect it to be lower, it doesn't usually stay near its peak for long. And the expected outcome of 19.0 would still be historically high -- the average for this index since it began in July 2001 is 8.3.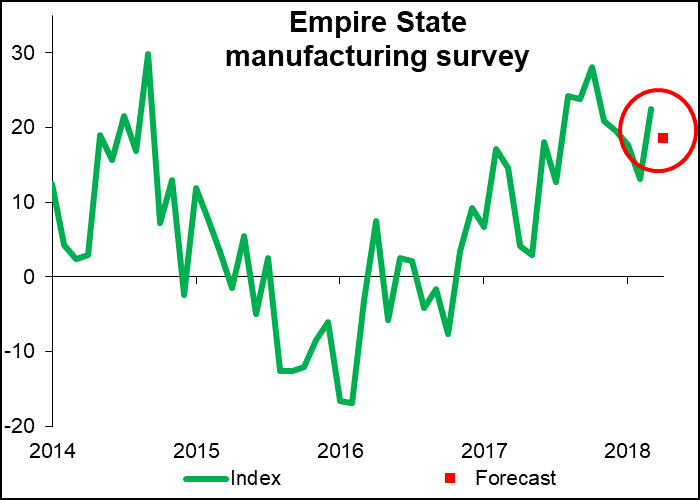 The National Association of Homebuilders (NAHB) report is expected to remain unchanged. But here too, since December was the highest level since 1999 -- even higher than during the housing boom of 2005-2007 – just remaining at around these levels is pretty amazing. The highest level during the housing boom was 72, hit for one month in June 2005, so remaining at 70 for two months in a row is no small feat. USD-positive.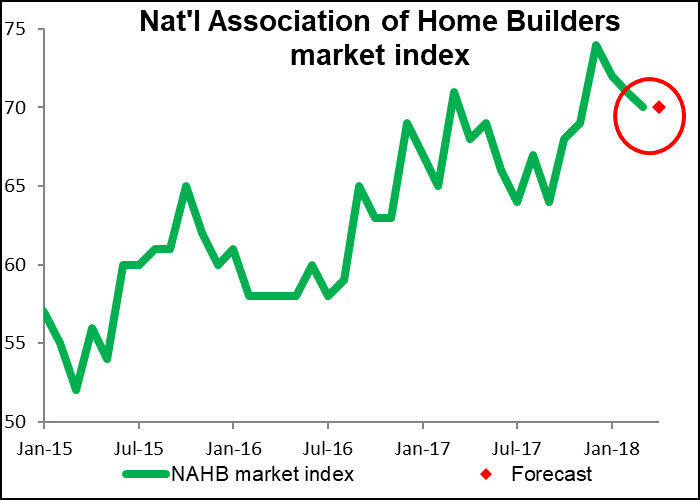 Atlanta Fred President Raphael Bostic will speak on the economy and rural market trends. "Rural market trends" may include something about China's tariffs on agricultural imports. Bostic is a voter and a relative centrist on the FOMC, so his views are particularly significant – if he's moving one way or the other, perhaps the consensus is, too. Let's see if he mentions the pending trade war and its implications for the economy and monetary policy.
Overnight we get the usual three monthly updates on Chinese economic activity: retail sales, industrial production and fixed asset investment. Retail sales and industrial production are expected to accelerate a bit, but remain well within recent ranges. I would expect these released to be neutral to slightly risk-on.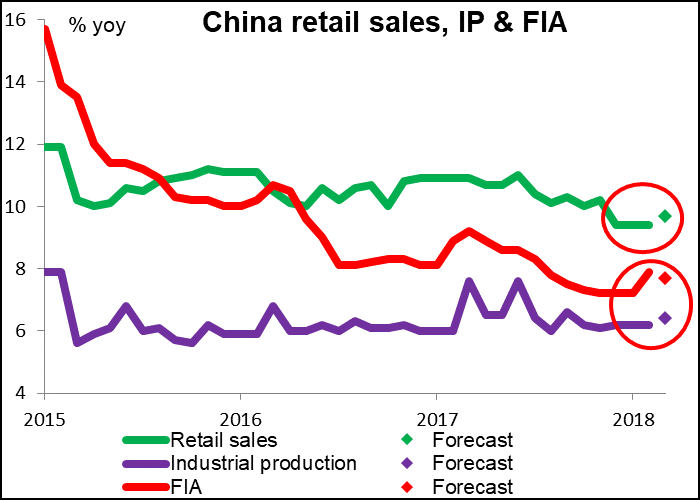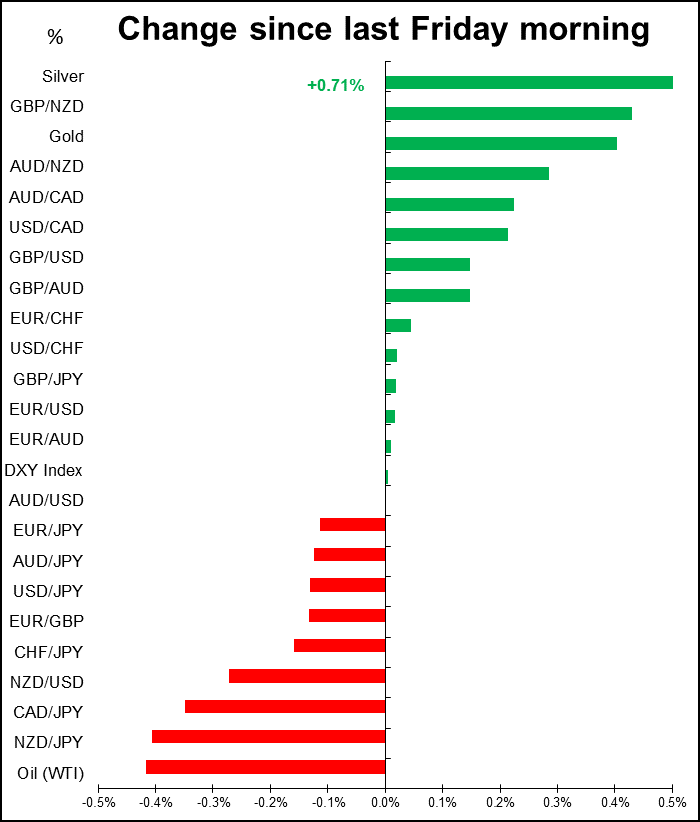 ---
P.S. Did you like my article? Share it in social networks: it will be the best "thank you" :)
Ask me questions and comment below. I'll be glad to answer your questions and give necessary explanations.
Useful links:
I recommend trying to trade with a reliable broker here. The system allows you to trade by yourself or copy successful traders from all across the globe.
Telegram channel with high-quality analytics, Forex reviews, training articles, and other useful things for traders https://t.me/liteforex
The content of this article reflects the author's opinion and does not necessarily reflect the official position of LiteForex. The material published on this page is provided for informational purposes only and should not be considered as the provision of investment advice for the purposes of Directive 2004/39/EC.