Market Recap
Worsening trade dispute pushes JPY, CHF higher the US Treasury department reportedly is planning to subject Chinese investments in sensitive US industries to greater scrutiny under a law that would declare these investments to be a threat to economic and national security. The ruling would threaten China's "Made in China 2025" drive and could therefore lead to an all-out trade war. The news sent AUD lower, reducing the large gains that it made on Friday, despite China's measures to shore up growth (see below).
China cut its reserve requirement ratio (RRR), which means banks can lend out the money instead of keeping it in their reserve accounts. The CNY 700bn freed is going mostly (CNY 500bn) to debt-to-equity swaps, in which banks swap their loans in companies for equity. This allows troubled companies to reduce their leverage. The other CNY 200bn is aimed at loans to small businesses, which are entering into a difficult time as the US-China trade war heats up. Overall, the move is one of a series of recent policy actions taken to support growth as economic indicators suggest the economy is slowing just as the trade war heats up. The measures will take effect on 5 July, one day before the first round of US tariffs on Chinese goods goes into effect.
Personally, I wonder how effective the move will be. It's not clear to me whether the RRR is a leading indicator of bank lending, i.e. whether a cut in the ratio leads to more lending, or a lagging indicator, i.e. the authorities cut the ratio when bank lending slows. Nonetheless, it certainly won't hurt.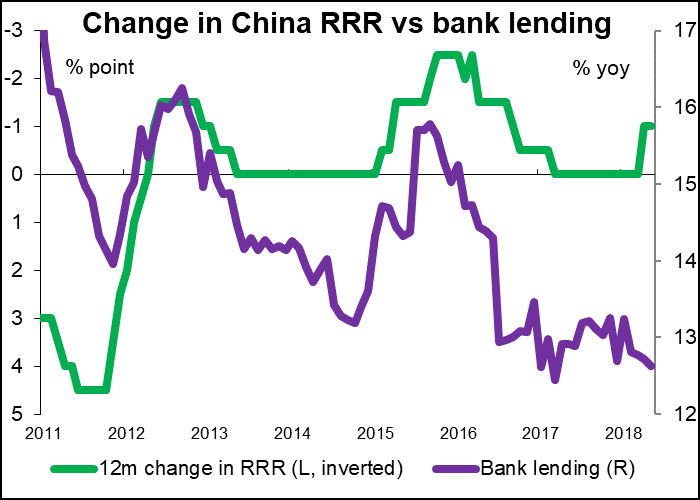 It's also not clear whether lending leads or lags industrial production or retail sales: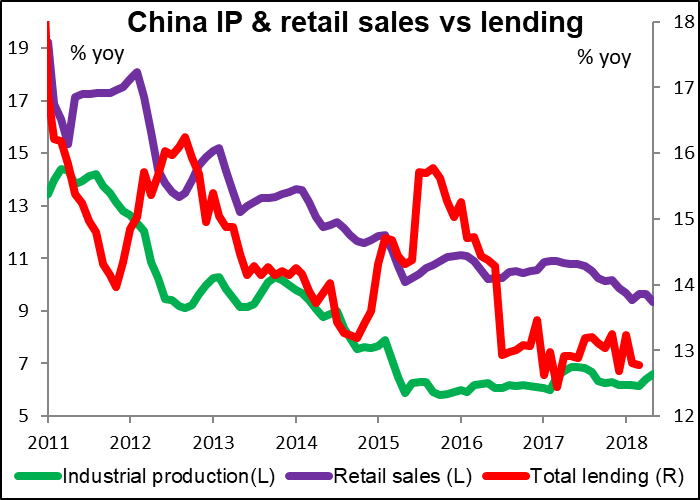 OPEC raised their output ceiling, but by how much? The statement following Friday's OPEC meeting didn't set a specific production ceiling nor did it say which countries would increase their output by how much. A bit of calculation shows it implies an overall increase of around 624k barrels a day (b/d). Then on Saturday, the group met with major non-OPEC producers, such as Mexico, and endorsed a "nominal" increase of 1mn b/d, again without even saying how this would be split between OPEC and non-OPEC, much less among specific countries.
Saudi Arabian Energy Minister Khalid Al-Falih was the one who called it a "nominal" increase. Maybe "theoretical" would be a better term. That's because 10 of the 14 OPEC countries (now 15 after Congo was admitted at this meeting) are already producing as much as they can, so they have no room to expand production. Furthermore, Venezuelan production is cratering as that country descends into chaos, and it's not clear how much oil Iran will be able to sell as US sanctions begin to bite.
Since some countries are unable to raise their production, in practice this means that countries with greater capacity (specifically, Saudi Arabia) will raise their production to higher than their implied quotas. But since we don't know how much they will raise output, we don't know what the net effect will be.
Total OPEC production was 31.87mn b/d, according to the latest OPEC bulletin, making a 1mn b/d increase a 3.1% rise – if it actually happens.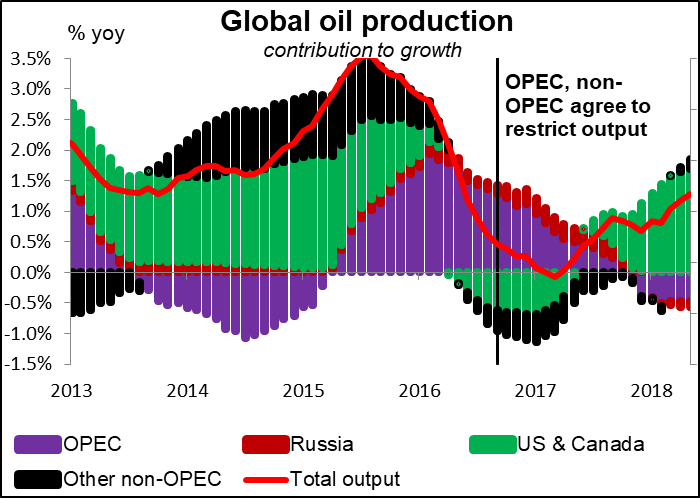 In any event, the move was less than the market feared and oil rose sharply following the meeting. That wasn't enough to support CAD however as trade fears increased. The market will now await Gov. Poloz' speech on Wednesday for any clues about the 11 July Bank of Canada meeting.
An emergency EU meeting Sunday to discuss the migrant issue saw the divisions in Europe laid out in the open after Italy demanded that the EU totally change its policies for dealing with migrants who land on European shores. The meeting was an attempt to reach some agreement on this issue before Thursday's EU summit, but in fact it just showed how difficult if not impossible it will be to reach any agreement. The lack of any agreement puts more pressure on German Chancellor Merkel's coalition, which is threatening to come undone over the issue. It's a potentially big EUR-negative, although for the moment the threat of trade wars to the US is dominating the markets.
Why was NZD down so much while AUD was up? New Zealand sends 24% of its exports to China and 10% to the EU, while Australia sends 37% to China and 6% to the EU. So measures to boost growth in China help Australia more, while possible hits to growth in Europe affect New Zealand more. Also investors may be looking ahead to Thursday's Reserve Bank of New Zealand meeting, which is expected to do virtually nothing to boost growth or make the currency more attractive. Finally, investors may have noticed the shift in sentiment towards NZD that was evident in this weeks' Commitment of Traders report (see below).
GBP was the worst performing major currency, presumably as the market focus shifts from last Thursday's Bank of England meeting to this Thursday's EU leaders summit and the ever-present Brexit problem.
Commitment of Traders (CoT) report shows the capitulation trade
Some enormous moves! (at least in percentage terms) as speculators threw in the towel and switched from net short USD to net long. The aggregate position of speculators in the futures contracts went from net short $7.1bn to net long $10.6bn. As you can see, the net EUR longs fell by more than half. Several other currencies flipped from net long currency to net short (thereby making for confusing percentage changes). JPY went from a net long 5,052 contracts to net short 35,562. GBP went from net long 10,969 to net short 19,206. NZD went from net long 7,006 to net short 15,940 – quite a dramatic move, as in one week they moved from being net long to being among the most short they've ever been. AUD net shorts more than doubled.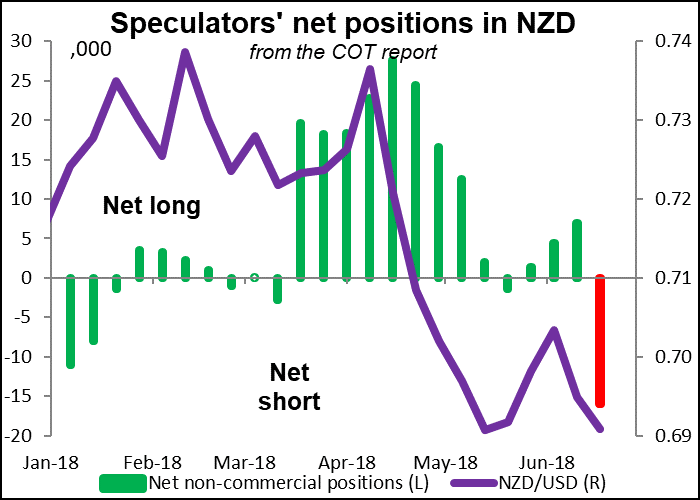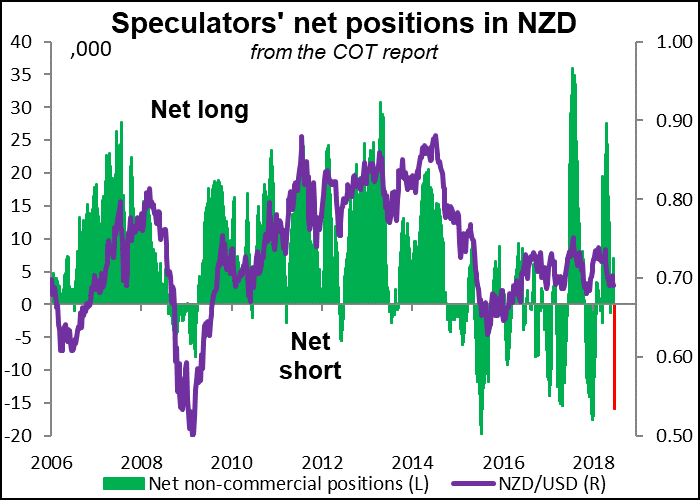 One exception was MXN, where net shorts fell considerably after the Mexican central bank raised interest rates. Curiously, CAD net shorts also fell slightly even as trade fears rose.
Both gold and silver longs were cut as precious metals fell.
Speculators reduced their net short US Treasury positions a week ago, but changed their mind this week and added to them.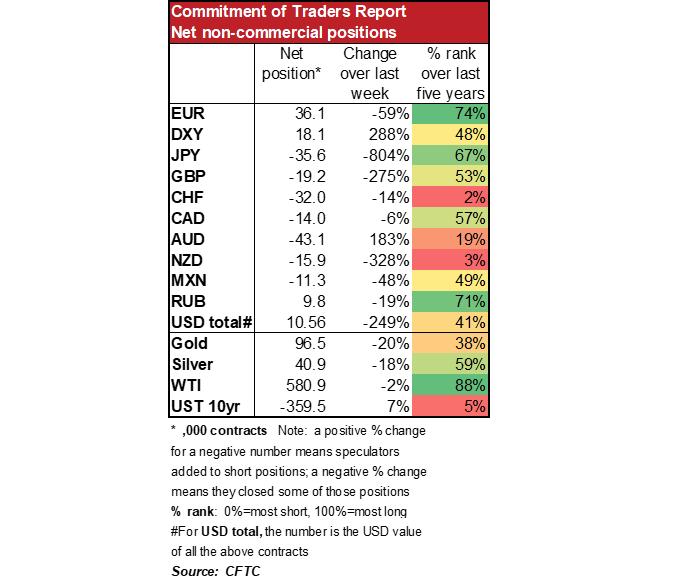 Today's market
The day starts with Germany's Ifo survey. All the indicators are expected to decline. By contrast, while the German manufacturing purchasing managers' index (PMI) for June was lower, the services (and therefore composite) PMI was higher.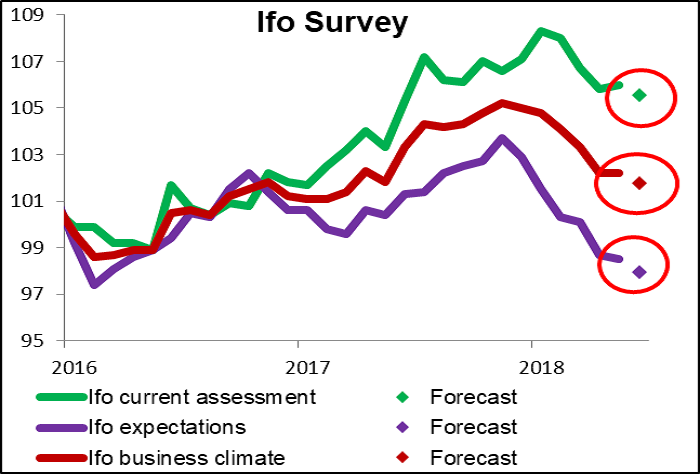 The Ifo expectations index has tracked the PMI fairly well, although the peaks and troughs tend to be sharper. This suggests that the downturn could continue even while the PMI turns up.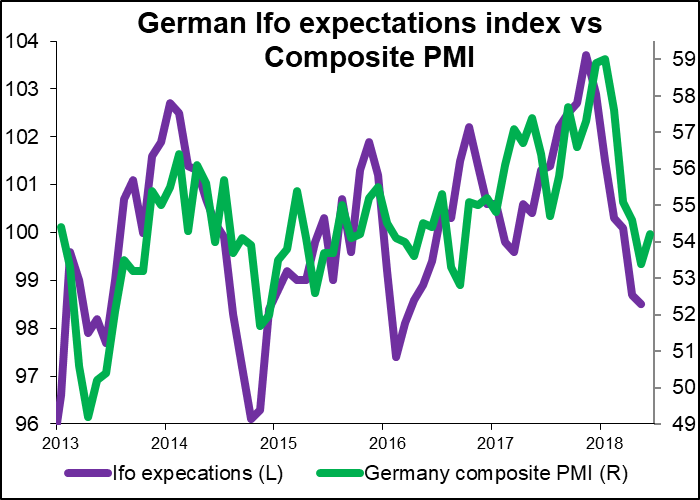 The Chicago Fed National Activity Index (CFNAI) is expected to be little changed, indicating that the US economy continued to grow at an above-trend pace in May. The CFNAI is different from the other regional Fed indices, which gauge conditions in that particular Fed district. The Chicago index is designed to gauge national economic activity and related inflationary pressure. A positive index reading corresponds to growth above trend and a negative index reading corresponds to growth below trend. Although the components have all been previously announced, the indicator is one of the more closely watched among those issued by the various regional Feds. USD-positive.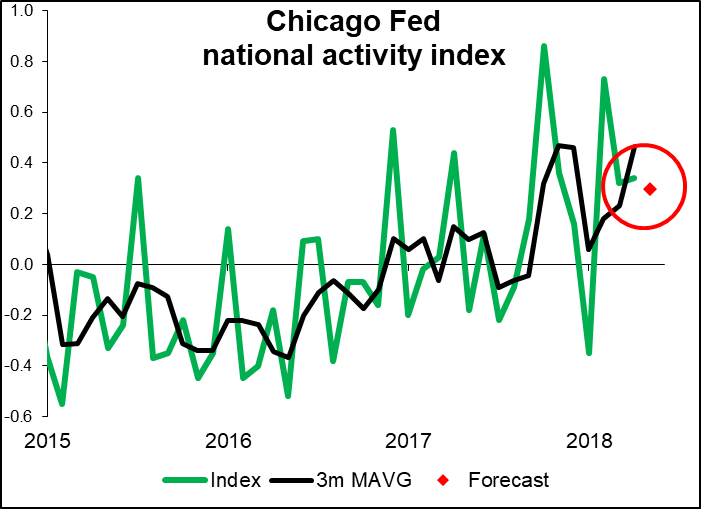 US new home sales are forecast to be 667k, a mom increase of 0.8%. This compares with the 0.4% decline in existing home sales that actually took place during the month. Pending home sales have been soft recently and higher mortgage rates have been discouraging new home buyers, but with the recent uptick in home building, sales of new homes could increase. USD-positive.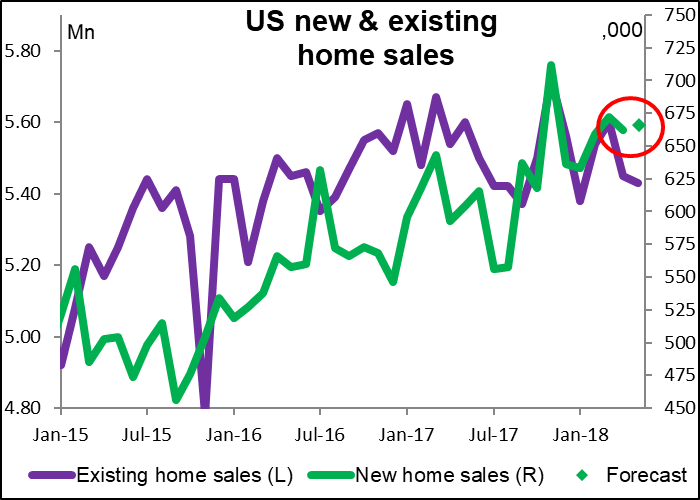 The Dallas Fed manufacturing index may be on some other calendars, but it doesn't seem to be very closely watched by the markets. Moves in EUR/USD in the 30 minutes and one hour following the release are totally uncorrelated with the results of the index. Ignore.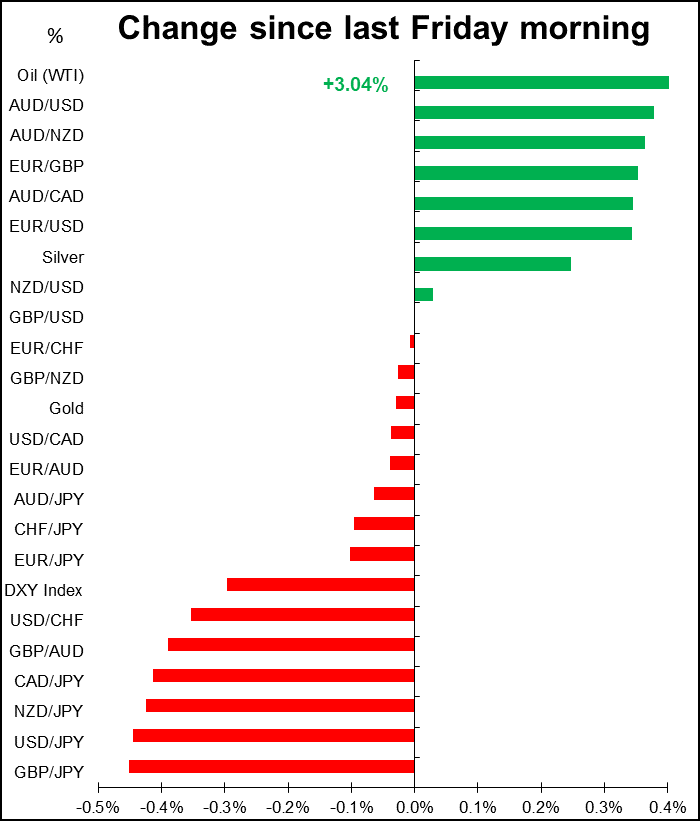 ---
P.S. Did you like my article? Share it in social networks: it will be the best "thank you" :)
Ask me questions and comment below. I'll be glad to answer your questions and give necessary explanations.
Useful links:
I recommend trying to trade with a reliable broker here. The system allows you to trade by yourself or copy successful traders from all across the globe.
Telegram channel with high-quality analytics, Forex reviews, training articles, and other useful things for traders https://t.me/liteforex
The content of this article reflects the author's opinion and does not necessarily reflect the official position of LiteForex. The material published on this page is provided for informational purposes only and should not be considered as the provision of investment advice for the purposes of Directive 2004/39/EC.