Market Recap
Worries about trade continue to dominate the financial markets through the impact on stocks. Yesterday I mentioned reports that the US Treasury is planning to subject Chinese investments in sensitive US industries to greater scrutiny. This news sent stock markets around the world lower. The S&P 500 was down as much as 2.0% at one stage, led by tech stocks, but pared the loss slightly to -1.4% after National Trade Council Director Peter Navarro said on TV that "The whole idea that we're putting investment restrictions on the world – please discount that…All we're doing here with the President's trade policy is trying to defend our technology when it may be threatened." Treasury Secretary Steve Mnuchin also said reports of plans to curb Chinese investment were "false." Nonetheless, there was a widespread "risk-off" tone as reflected in slightly wider credit spreads, higher bond prices, weaker commodity markets, a higher VIX and a stronger CHF and JPY vs USD, although not on a trade-weighted basis.
It seems though that EUR is now the #1 "safe haven" currency. EUR was the only major currency to gain yesterday overall. EUR vs AUD, the major "risk on" currency, was the biggest-moving major currency pair over the last 24 hours. During the US session it tracked the VIX index closely, although it's noticeable that when stocks started to recover and the VIX turned down, EUR/AUD didn't move lower – apparently the "risk off" sentiment continued in the FX market.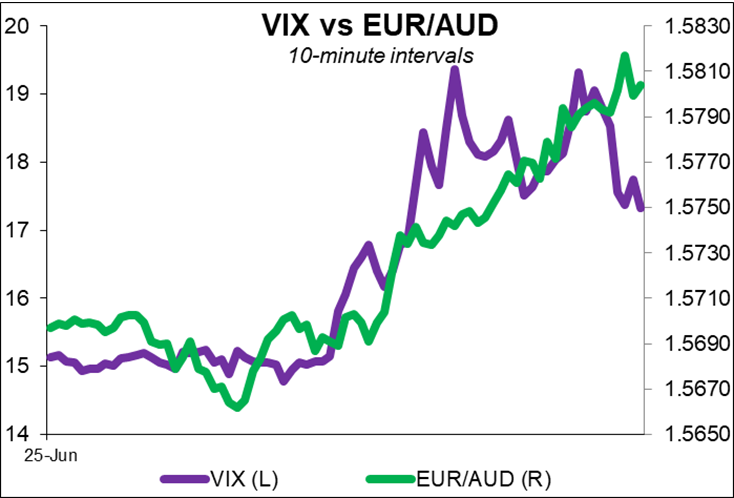 The strength of the euro is puzzling to me, because Europe faces its own problems, too. Italian bond spreads widened yesterday after the anti-migrant League party did well in municipal elections over the weekend. Spanish and Portuguese spreads widened somewhat as well. Candidates from the League and traditional allies Forza Italia and Brothers of Italy won in the second round of local votes in most Italian cities, including some usually left-wing cities. The success of this anti-migrant party is bound to solidify Prime Minister Giuseppe Conte's opposition to EU immigration policy at this week's EU summit, making for a more difficult summit and more pressure on Chancellor Merkel. EUR could weaken later in the week as a result.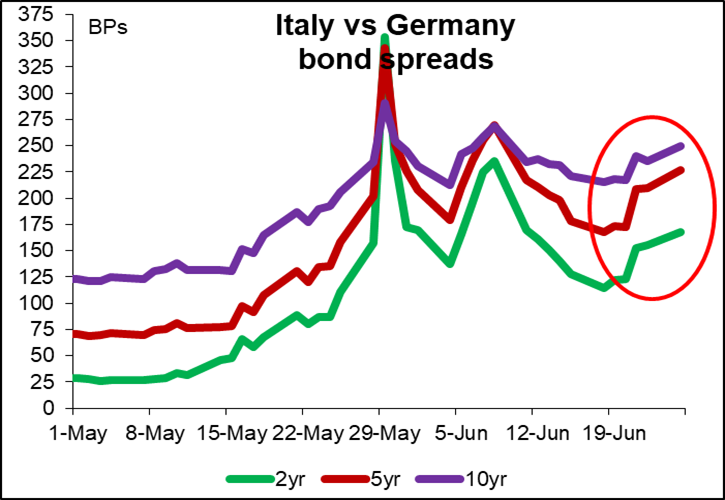 In addition to the looming political problems, Europe's economic indicators are also underperforming the US. Yesterday's German Ifo business climate index fell, as was expected. The message from the Ifo was broadly in line with that of the German and EU-wide PMI data: the levels are consistent with solid rates of growth, but those levels have been steadily declining this year from the cyclical highs that were hit at the end of last year.
In contrast, yesterday's US data was stronger than expected, with new homes sales rising to their best levels since November 2017 and a Dallas Fed survey unexpectedly rebounding back towards a record high. (The Chicago Fed's national activity index however unexpectedly plunged into negative territory.)
Furthermore, there's still an expectations gap. The US economic indicator surprise index is almost at zero, meaning that overall, indicators recently have come in about as expected, whereas the European index is still heavily negative – meaning that indicators in Europe are still failing to meet expectations (although less so recently, which means that investors are revising their expectations for Europe down as the indicators come in weak.)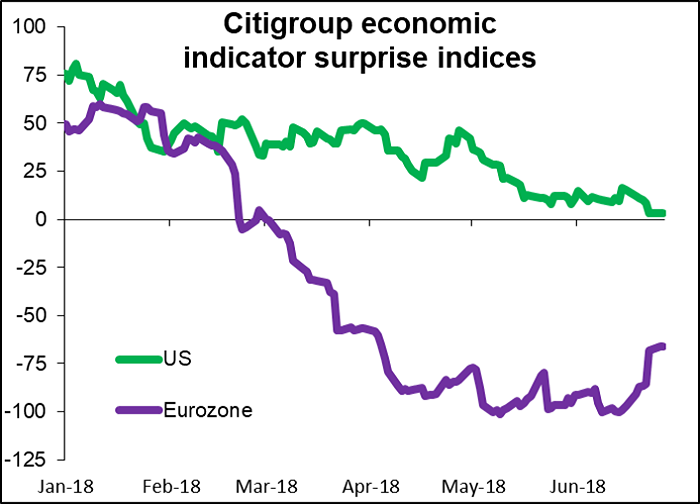 The slowdown in Europe may mean that ECB tightening is likely to be delayed,. ECB Governing Council member Vitas Vasiliauskas yesterday said that the ECB Council could start to discuss raising rates in the autumn of next year – significantly later than many people had thought. Furthermore he stressed "as I said, discuss," i.e. not necessarily act. ECB guidance is that rates will remain stable "at least through the summer of 2019." Vasiliauskas observed that "in this part of the world, summer means until the end of September."
Ordinarily that would be a kick in the pants for the euro, but after Fed Chair Powell's warning last week that the trade dispute is hitting US business confidence, investors aren't so sure about the Fed's plans, either. Ultimately, that may be the reason why the euro is so strong: doubts about the Fed's ability to move while the US is caught up in a trade war on multiple fronts. It seems to me that investors assume the US is likely to be the big loser in this trade war. Accordingly, USD may remain weak until we get some clarity on the trade issue.
Today's market
UK Finance gives its monthly report on its members' mortgage business. Mortgages issued by UK Finance's members are expected to be up about 0.5% from the previous month, whereas the Bank of England mortgage approval figures, to be released on Friday, are expected to show a 0.4% mom decline. In other words, people have no idea what's going to happen. Approvals may be down a bit, they may be up a bit. Down a bit (today) would be bad, up a bit (Friday) would be good.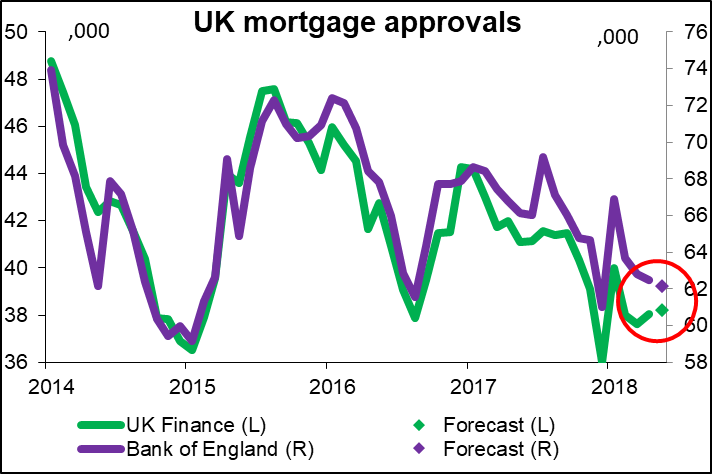 Prof. Jonathan Haskel will speak before Parliament's Treasury Committee. Haskel, a Professor of Economics at Imperial College London, will replace uber-hawk Ian McCafferty on the Bank of England's Monetary Policy Committee (MPC) from 1 September. His main research interests are productivity, innovation, intangible investment and growth, which are particularly important questions nowadays for the MPC, since sluggish productivity growth is one of the major problems facing the British economy (aside from committing suicide by voting to leave the EU). Since I doubt if he'll be as hawkish as McCafferty, who has consistently voted to hike rates, his comments may be negative for sterling (except that probably, nobody expects him to be as hawkish as McCafferty).
Speaking of whom, McCafferty himself will speak at the Official Monetary and Financial Institutions Forum today. But seeking as his position is well known and he has only one more MPC meeting anyway, I doubt if this will be particularly market-affecting.
ECB Vice President Luis de Guindos will make introductory remarks at the Bond Market Contact Group organized by the ECB in Frankfurt. You've probably never heard of de Guindos. He was Spain's Finance Minister until he recently (1 June) took over from Vitor Constancio as the Vice President of the ECB, the #2 person in the organization. De Guindos has only a B.A. in Economics and no experience with central banking. However he does have considerable experience with government economic policy. According to Wikipedia, he was in charge of overseeing Spain's entry into the eurozone and is credited with steering Spain to economic recovery following the 2008 Global Financial Crisis as well as negotiating the EU's €100bn bailout of Spain's savings banks. As for his views on monetary policy, he has described himself as neither a hawk nor a dove but as "pragmatic," which probably means he has a hidden bias that he isn't aware of. As Keynes said, "Practical men who believe themselves to be quite exempt from any intellectual influence, are usually the slaves of some defunct economist." De Guindos hasn't made many speeches on monetary policy so although this speech is likely to be short, it will be closely watched in case he reveals his biases.
The Conference Board's index of US consumer confidence is expected to be unchanged in June. This would be slightly worse than the U of Michigan index, which rose during the month. That's a little surprising, because the Conference Board measure is more heavily weighted towards the labor market while the Michigan methodology places more emphasis on longer-term macroeconomic expectations. The labor market is certainly in good shape, with the unemployment rate now at 3.8%, whereas the nascent trade wars spell longer-term trouble for the economy.
In theory the decline may be negative for USD. However, we shouldn't get carried away. The recent high in the index – February's 130.00 – was the highest level since the internet bubble days of 1999/2000, when people were convinced that a new world was dawning and Pets.com launched at $11 a share even though it was selling goods at one-third their cost. It should be no surprise that the trade wars are causing some people to get a bit nervous about their future. Problems would only begin if the index fell below its recent low, causing people to think that perhaps the uptrend had ended.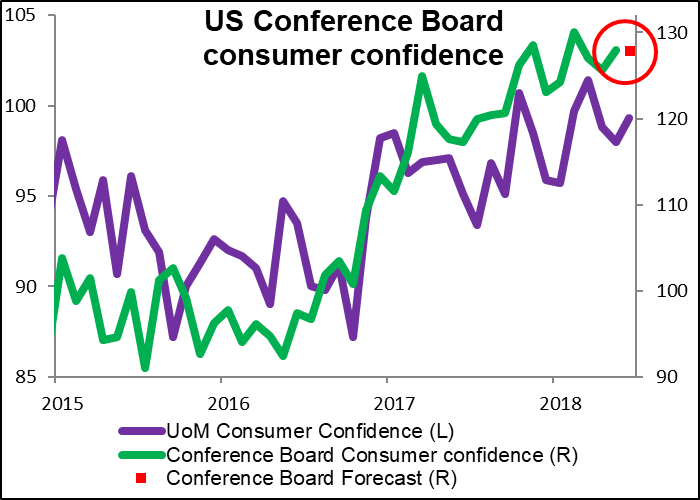 Atlanta Fed President Raphael Bostic will hold an "armchair conversation" with the Birmingham Civil Rights Institute (BCRI), a museum in Birmingham, Alabama dedicated to the struggle against segregation and for civil rights worldwide. There's no text but there will be a Q&A session. There's no indication what this is about – the Atlanta Fed doesn't have an "upcoming events" section on their website, while the venue doesn't list this event either.
Just to provide some context for my non-US readers, Birmingham is the largest city in the state of Alabama, which is one of the poorest states in the US, and was the scene of many major clashes against racial segregation during the US civil rights era. Bostic is the first African American and also the first openly gay person to head up one of the regional Feds. He might be talking about economics, he might be talking about his own personal experiences – I have no idea.
Dallas Fed President Robert Kaplan's participation in a moderated Q&A session with "the Greater Houston Partnership State of Talent" (whatever that is) promises to be a more ordinary event. Given where he works, his comments on the oil market and last week's OPEC decision will be especially notable. He said recently (19 June) that his bank's economists think "the negative impact of higher oil prices on GDP growth is likely to be more muted than in the past," as the oil/GDP ratio has fallen considerably.
Overnight, New Zealand announces its trade balance for May. Trade is expected to be in surplus by NZD 100mn. Coincidentally, that's almost exactly the number you would get if you used Excel's "goal seek" function to figure out what number you would need to keep the 12-month moving average unchanged from the previous month. Is that how economists are making these forecasts? Actually, only three out of the eight economists who submitted a forecast submitted that number. The other five submitted numbers ranging from -250mn to +500mn. However, since Bloomberg presents the median estimate as the "market consensus," 100mn is the number that comes up as the consensus. (Actually, the exact "goal seek" number is +68mn, but of course that would be too obvious, so it's no surprise if people round it up.) In any event, no change in the trade picture would imply no change in the currency, either. NZD-neutral.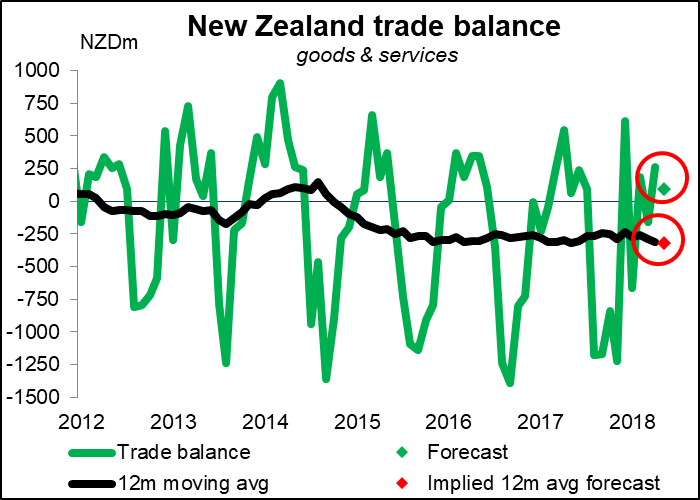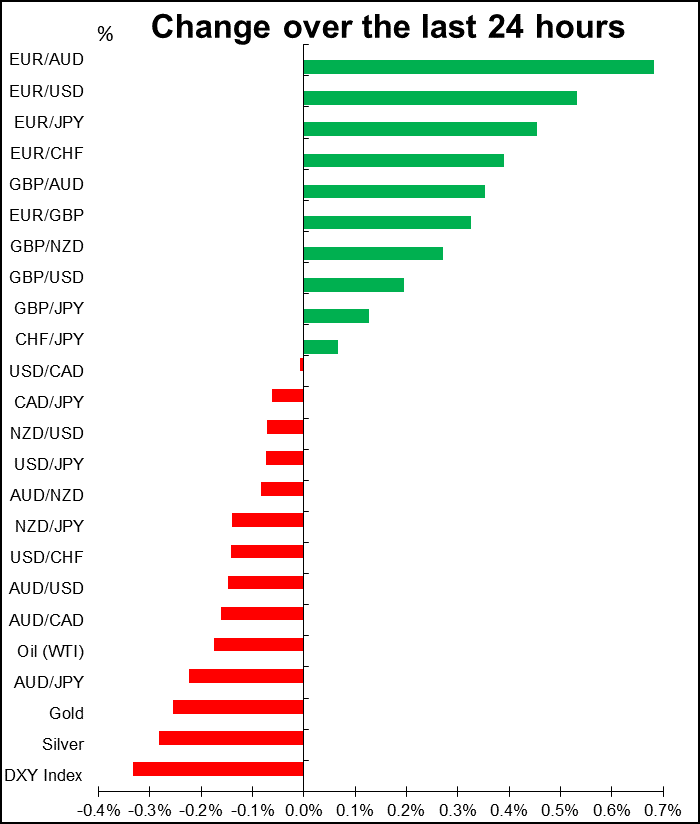 ---
P.S. Did you like my article? Share it in social networks: it will be the best "thank you" :)
Ask me questions and comment below. I'll be glad to answer your questions and give necessary explanations.
Useful links:
I recommend trying to trade with a reliable broker here. The system allows you to trade by yourself or copy successful traders from all across the globe.
Telegram channel with high-quality analytics, Forex reviews, training articles, and other useful things for traders https://t.me/liteforex
The content of this article reflects the author's opinion and does not necessarily reflect the official position of LiteForex. The material published on this page is provided for informational purposes only and should not be considered as the provision of investment advice for the purposes of Directive 2004/39/EC.