Market Recap
USD is on quite a roller coaster ride these days, again related to trade. Yesterday Trump seemed to back off on his "trade wars are good, and easy to win" position and said he favored Treasury Secretary Mnuchin's less confrontational approach to trade with China. Several other administration officials weighed in with similar comments, perhaps stung by iconic US motocycle producer Harley Davidson's announcement that they'd be moving some production over to Europe as a result of the tariffs. As a result US stocks managed to eek out a small gain and the VIX index fell, indicating some return of confidence, which helped to boost USD.
While trade had affected markets mostly through its impact on the stock market, it's become more of a macroeconomic and FX market mover after Fed Chair Powell's recent comments that the issue is beginning to affect corporate hiring and investment intentions. Atlanta Fed President Raphael Bostic, a voting member of the FOMC, yesterday agreed with Powell's comments, saying that the disruption from trade disputes is causing business leaders to pause on aggressive investment. Bostic said he still favors only three rate hikes this year and that trade tensions could convince him to remove a fourth hike "as a real possibility."
That sort of risk is bearish for USD, but the concern underlying his thinking may help to change that policy as the administration worries its economic record ahead of the midterm elections in November. I think Trump is beginning to see that trade wars aren't as easy to win as he had thought. With the administration reeling from the scandal over its migrant child separation policy, he's likely to back off doing anything that will harm his key supporters in rural states. That means less trade tensions to come and perhaps a higher dollar – if indeed he does back off.
NZD was the worst-performing major currency by far. It fell throughout the European and much of the US day yesterday. It managed to stabilize a bit at the end of the US day, but then took a further lurch downwards after the ANZ Survey of Business Opinion showed a fall in business confidence almost back to the cyclical lows (-39.0 down from -27.2; recent low was -39.3 in November 2017). These are the lowest levels since the 2008/09 Global Financial Crisis. The survey showed 48% of firms expect conditions to deteriorate while only 9% expect improvement. A better-than-expected trade balance as exports rose to the second-highest on record didn't have any noticeable impact on the currency. (NZD +294mn vs NZD +100mn expected, although previous was revised down to NZD +193mn from NZD +263mn) I think NZD could rebound later on short-covering if the RBNZ is more optimistic than people expect (see below).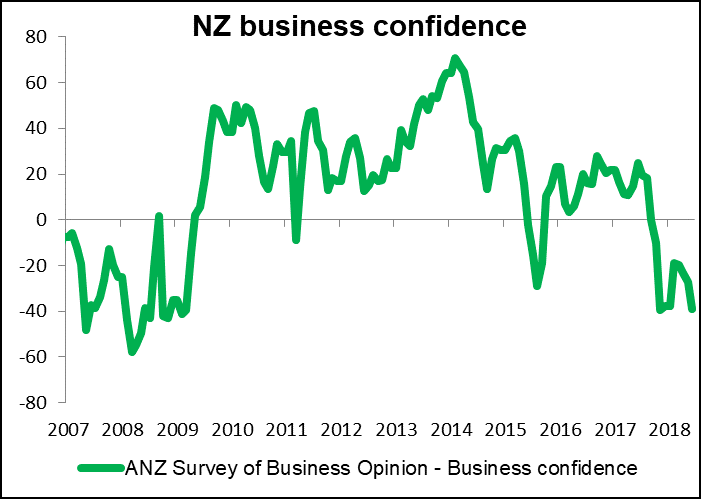 Jonathan Haskel, who will replace the hawkish Ian McCafferty on the Bank of England's Monetary Policy Committee from September, said he agrees with the Bank's "broad direction" and noted that there are risks in tightening too fast. This is quite different from McCafferty's view, which is that they should have hiked months ago, and sent GBP lower. I think the window for a rate hike in Britain is rapidly closing. The Brexit uncertainty is increasing, which makes a rate hike in August less certain, and with the MPC's two biggest hawks leaving after that, I doubt if there will be a majority for a hike for some time. That's likely to leave GBP under more and more pressure.
Oil gained as fears of reduced supply, particularly from Iran and Libya, outweighed the possibility of increased output from Saudi Arabia. The US sanctions on Iran are beginning to bite, and for several days now there have been anti-government demonstrations across the country. Instead of the usual "Death to America" chants, people are shouting "Death to Khamenei," the country's Supreme Leader, as the Iranian rial (IRR) plunges. The official rate is around 42,491 IRR to $1, but the black market rate is almost double that – 79,000. The US has asked all its allies – if indeed it has any left – to stop importing oil from Iran by November. There's also concern about Libya's exports as control over several of the main ports changed hands. Finally, yesterday's report by the American Petroleum Institute (API) showed a massive 9.23mn barrel drop in US inventories last week, much bigger than the 3.0mn forecast.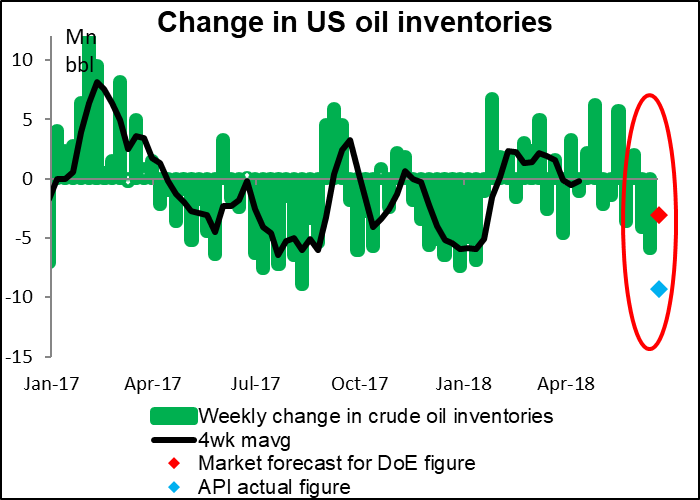 I think the crisis in Iran, which accounts for some 12% of total OPEC output, is only going to get worse and oil prices could continue to rise for some time.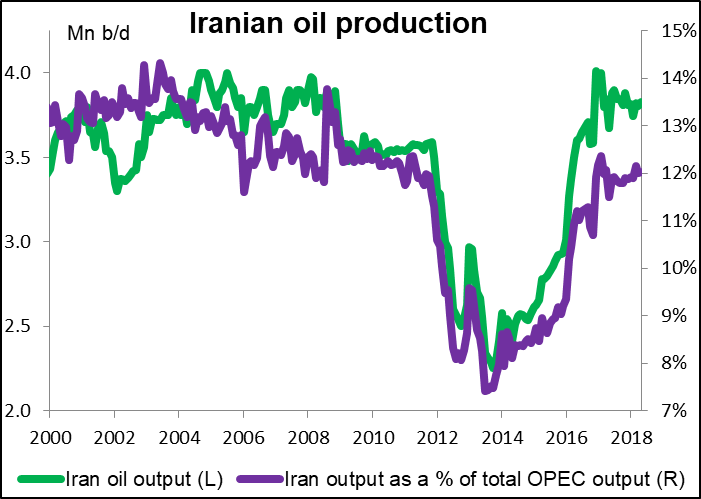 Today's market
The day starts with the publication of the Bank of England's Financial Stability Report. BoE Gov. Carney will discuss the report sometime after its publication. He culd say something about policy, but after last week's Monetary Policy Committee decision, release of the minutes, and his Mansion House speech, there are probably few secrets left to uncover.
US durable goods orders are forecast to show the second consecutive month of decline. Normally I only discuss the headline figure, which is the one that the FX market pays the most attention to, but this month I think the headline figure may be too distorted by aircraft orders to give a decent reading. The ex-transportation figure is expected to show the fourth consecutive month of growth, which is likely to be considered positive even if it does show some slowing (industrial production fell during the month). Despite the expected slowdown, the continued string of increases in this underlying figure suggests some strength in the US economy going forward. USD-positive.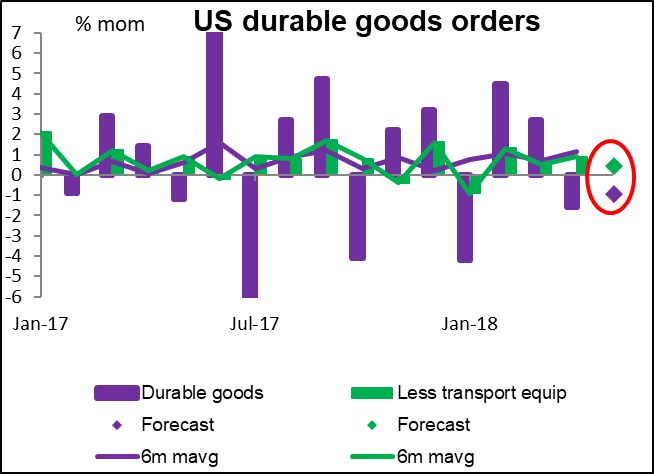 The advance goods trade balance has been rescued from relative obscurity and lifted into the first tier of economic indicators by the current US administration's inability to understand the concept of "invisible trade," or trade in services. Services are serious business nowadays; the services surplus is 30% the size of the goods deficit. Over the last 12 months for example the deficit in goods has been $820bn, but the surplus in services has been $247bn. As you can see.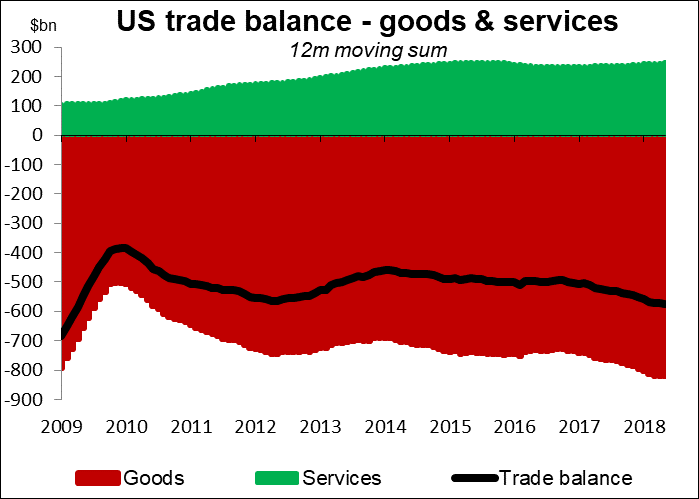 This month, the goods trade deficit is expected to widen from the previous two months but still be narrower than the trend, as the deficit was extremely wide in December through February. I think in this case it's the change from the previous month's figure that counts and so I think this is likely to be negative for USD.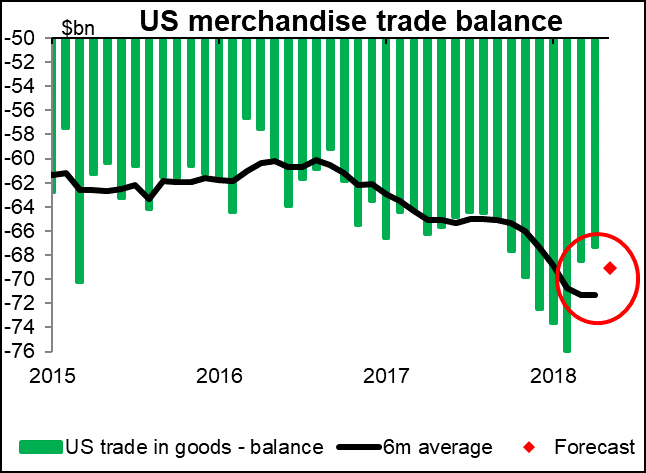 US pending home sales are expected to be up modestly. This is quite a volatile series, even the six-month moving average is volatile, so it's hard to say anything about a trend. A rise after last month's fall should be taken as positive, but it's hard to tell if this small rise will be enough to compensate for the recent declines. If the figure comes in as expected, it would still leave the six-month moving average as negative, which I think would be a disappointment and therefore negative for USD. We should see some larger increases to be sure that pending sales are on the rise.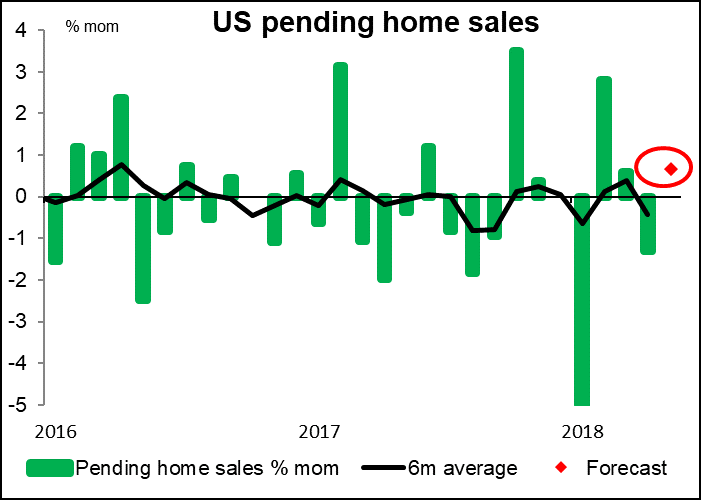 Boston Fed President Eric Rosengren (non-voter) delivers a lecture on "Ethics and Economics: Is the Economy Too Sensitive to Economic downturns?"
Bank of Canada Gov. Stephen Poloz will speak, followed by a press conference. The title of his speech is, "Let Me Be Clear: From Transparency to Trust and Understanding." It's expected to be a high-level discussion on monetary policy rather than any prelude to the Bank of Canada's decision two weeks later. Nonetheless it's sure to be scrutinized closely for any clues as to what might happen at the meeting. Recent comments by BoC officials have generally been hawkish, but the odds of a rate hike any time soon have been falling as trade tensions increase. The odds of a hike at the meeting have turned up a bit in recent days and are now seen as around 58%, but that's still just a little better than a coin toss.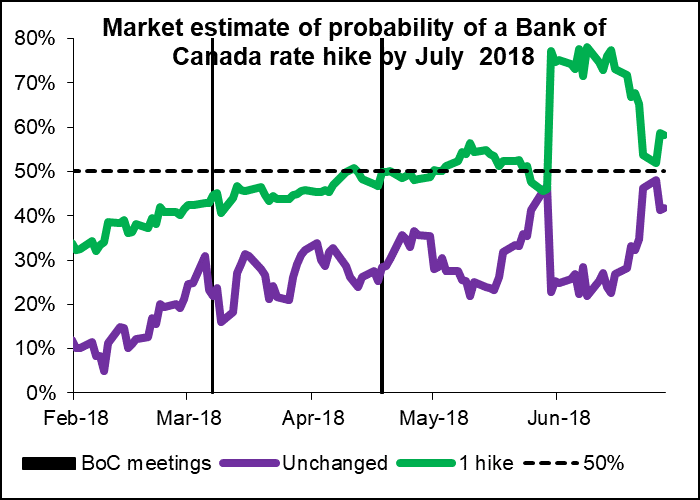 Then overnight, the Reserve Bank of New Zealand meets Thursday morning New Zealand time to set rates. Rarely has a central bank meeting been met with so little anticipation. This is an interim meeting and therefore won't be accompanied by a Monetary Policy Statement, nor have there been any updates on consumer prices since the May meeting. With virtually no chance of a rate change, the focus instead will be on what they say about growth after the 1Q GDP figures came in below their estimate. With some analysts already expecting rates to remain stable until 2020, I doubt if anything they say could shift expectations out further. The risk therefore is that they could be more optimistic on the economy than people expect and the currency could strengthen, especially after the recent sharp fall. But even that's a relatively low probability event, in my view. Rather, the odds are that they barely change the statement and that the meeting passes almost unnoticed.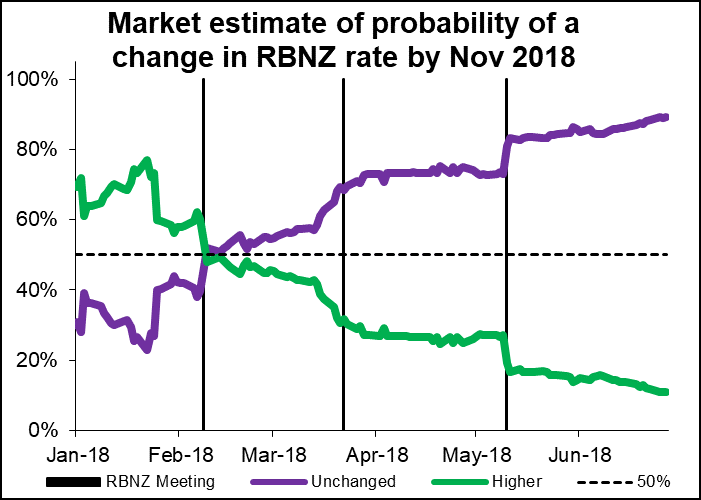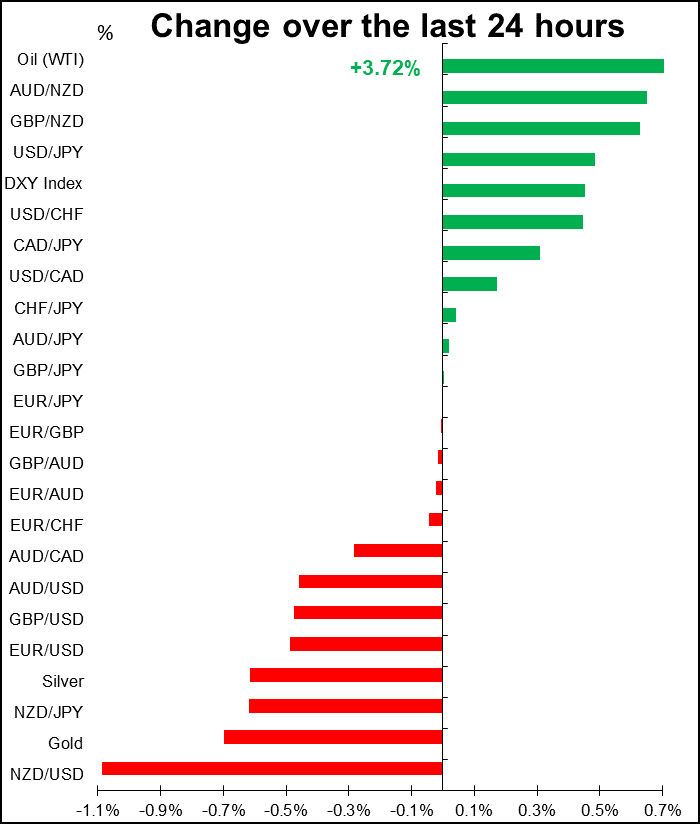 ---
P.S. Did you like my article? Share it in social networks: it will be the best "thank you" :)
Ask me questions and comment below. I'll be glad to answer your questions and give necessary explanations.
Useful links:
I recommend trying to trade with a reliable broker here. The system allows you to trade by yourself or copy successful traders from all across the globe.
Telegram channel with high-quality analytics, Forex reviews, training articles, and other useful things for traders https://t.me/liteforex
The content of this article reflects the author's opinion and does not necessarily reflect the official position of LiteForex. The material published on this page is provided for informational purposes only and should not be considered as the provision of investment advice for the purposes of Directive 2004/39/EC.