Market Recap
Another day of relatively lacklustre movements in the market. A risk-on feeling in the stock market proved negative for USD but not so positive for EUR, either.
One reason USD may be lower today was a ridiculous tweet from Trump, who said: "Russia and China are playing the Currency Devaluation game as the U.S. keeps raising interest rates. Not acceptable!"
For those who are interested, here's a graph of USD/CNY. It may be true that the Chinese authorities have been intervening to slow the currency's appreciation, but it's obviously false to say that they are devaluing their currency. On the contrary, CNY has appreciated 9.5% vs USD since Trump took office.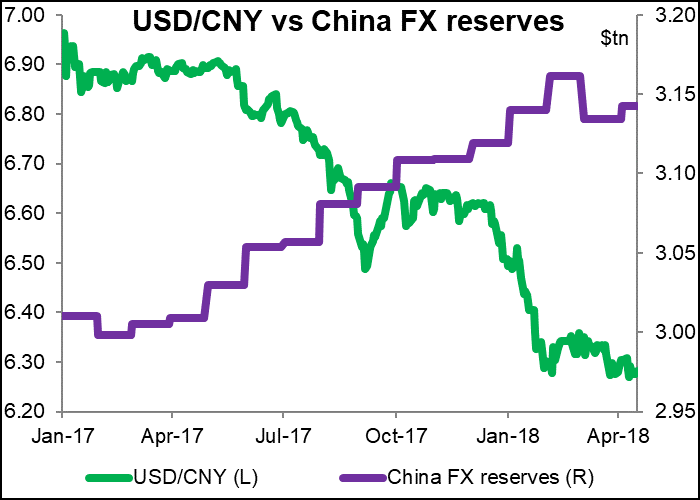 The situation is of course different for Russia. Here, the currency has indeed fallen sharply recently, but that's because of the sanctions that various countries have been imposing on Russia, including of course the US. I have to say I'm surprised to see Russian FX reserves rising at the same time though. The change looks to be too much to be accounted for simply from valuation changes, since 47% of the country's reserves are in USD to begin with.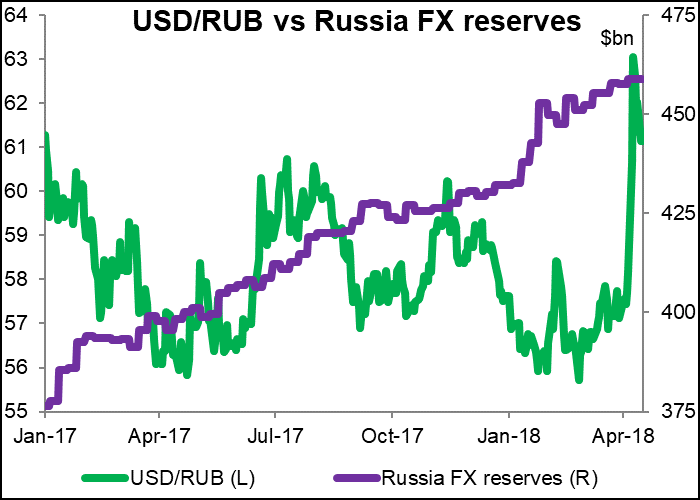 In any event, Trump's tweet goes to the heart of the USD-negative argument right now, which is, how will the country finance its growing budget deficit while simultaneously rectifying its trade deficit? For many years, foreign central banks, specifically the Asian central banks, have been the main foreign purchasers of US government debt. That has allowed the US government to run its huge budget deficit. But now Trump is telling them to stop intervening in the market and let their currencies appreciate.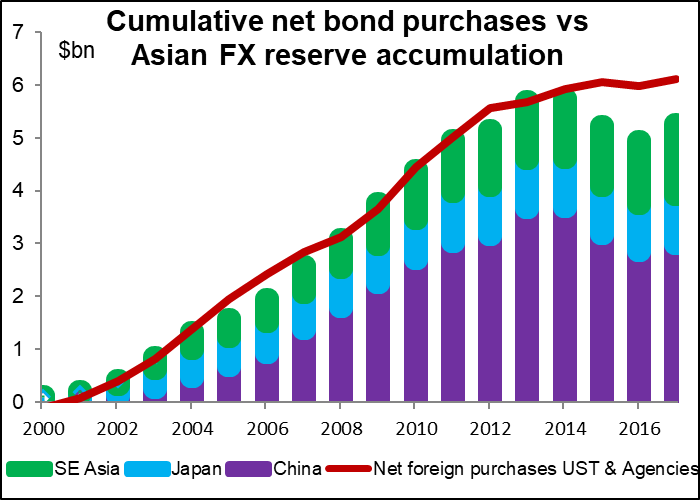 Trump basically wants two incompatible things: his budget has blown a hole in the US government's finance, but he wants to stop foreign governments from financing it. Over the long term this problem could be solved if US exports increase, US production increases, US jobs increase and thereby US taxes increase, but the mechanism by which this would be accomplised would be USD deprecation.
Elsewhere, AUD fell after China's industrial production missed expectations. The implication is that China won't be needing as much iron ore in the future if industrial production isn't growing as rapidly as people had thought.
NZD kept falling even though the currency wasn't notably affected when the China data was released, unlike AUD. One might have expected AUD selling to push AUD/NZD lower, but in fact AUD/NZD moved higher on the day. Apparently people were selling it vs CAD and JPY to hedge options. There could also be some position-taking ahead of Thursday's CPI figures, which are expected to show NZ CPI almost slipping out of the bottom of the RBNZ's target range. I think NZD is getting to be oversold could be in for a "sell the rumor, buy the fact" bounce once the CPI is released and the hedging activity is out of the way.
GBP was once again the star performer ahead of today's employment data and tomorrow's CPI figures, which are expected to show growth in average earnings and core inflation accelerating. I think the news should be GBP positive (see below).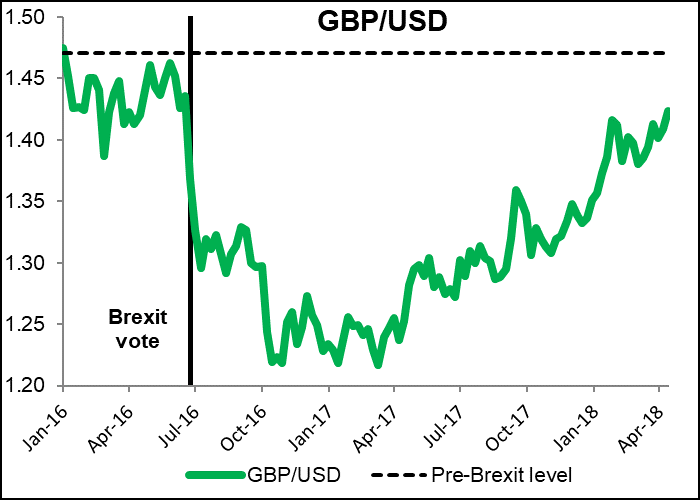 CAD continues to gain ahead of tomorrow's Bank of Canada rate decision. However I think this is a good selling opportunity, as I expect the BoC to hold steady with little change in its view, which could disappoint the market.
Today's market
Today is the first day of a two-day meeting between Japan's PM Abe and Trump. The two started out with a great relationship, but as many people are finding out, it doesn't always pay to become friends with Trump – PM Abe hasn't seen the dividends that he expected. The two will have a lot in common when they talk about North Korea and other security issues, but maybe not so much when they start discussing trade issues on Wednesday.
The day starts out with the British employment data. The number of new jobs is expected to be below last month's unusually high level but still around trend (the six month average is 64k), while the rise in average earnings is expected to accelerate substantially. It's this rise in earnings that constitutes the biggest concern for the Bank of England, because they consider it to be a harbinger of inflation – companies will have to raise their prices to accommodate higher wages. The 3.0% yoy rise that the market is anticipating would be the fastest rate of increase since September 2015, well before Brexit. This might raise expectations of two rate hikes this year (currently the market odds slightly favor only one hike, 42% to 39%) and push the pound higher.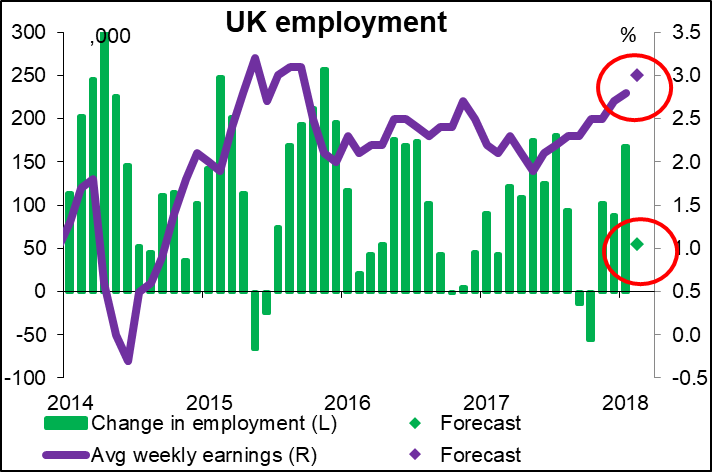 The ZEW survey is a survey of financial analysts and economists, not people who really do something, and so isn't as much a reflection of real life as it is a reflection of expectations. The expected negative read on expectations is probably due to concerns about the US administration's tariffs and trade restrictions, plus more general caution about how the strength of the euro might affect exports. EUR-negative.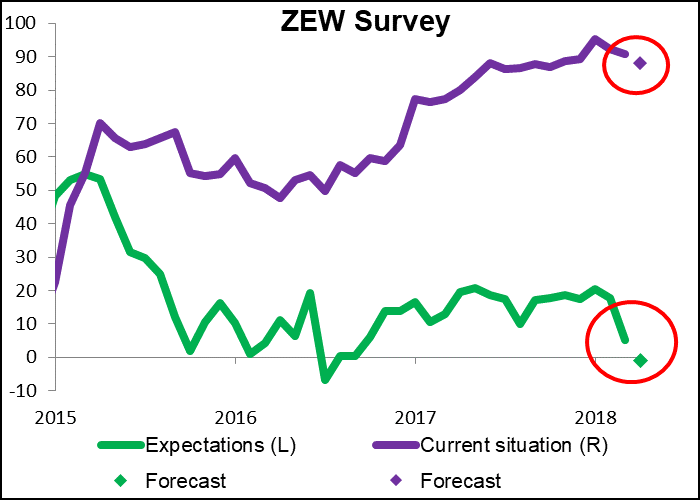 US housing starts and building permits are both expected to be up a bit. A recovery here would be good news after yesterday's disappointing NAHB index, which fell one tick (expected to be unchanged). Nonetheless, the rebounds in the two building indicators are expected to be relatively shallow when compared with the declines in the previous month. That may have something to do with the unusually bad weather during the month. USD-neutral.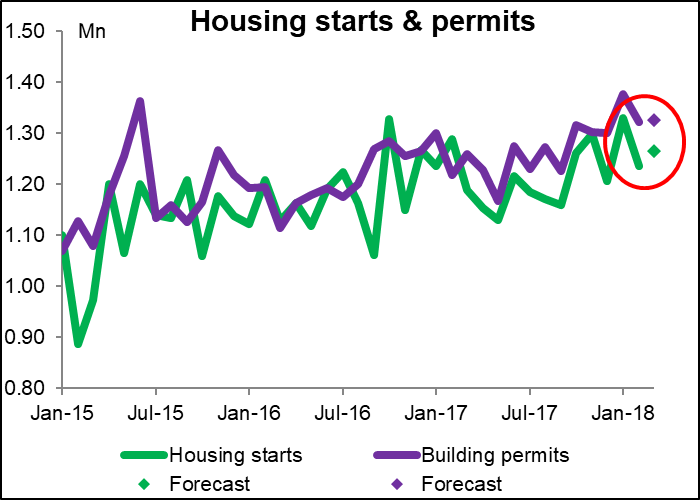 US industrial production is expected to rise at a slightly below-trend rate after the sharp rise in the previous month. Aggregate factory hours were a bit weaker in the March employment report, which implies that manufacturing production was a bit weaker too. Nonetheless I don't see this as presaging any change one way or the other for the US economy and so I'd say this indicator too is likely to be neutral for the dollar.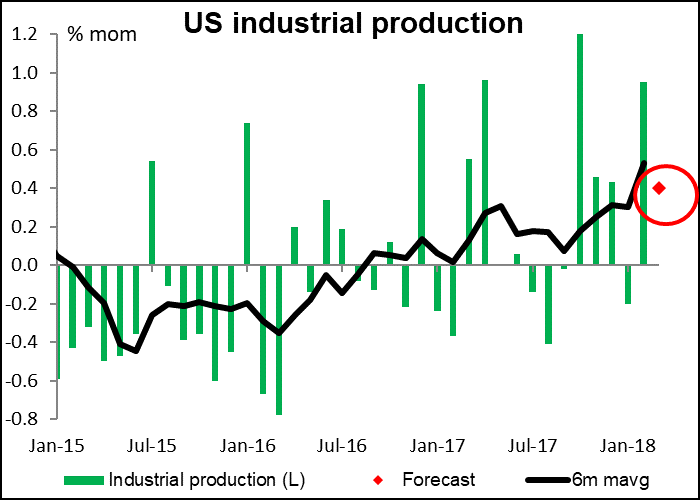 In the US afternoon, we get four Fed speakers – San Francisco Fed President John Williams, Fed Vice Chair Randall Quarles, Chicago Fed President Charles Evans and Atlanta Fed President Raphael Bostic.
Williams, speaking in Madrid, is one of the most important people to listen to this week. He's currently head of the San Francisco Fed but will take over as the head of the powerful NY Fed in June. Williams spoke on Friday, 6 April, and said he was confident that the Fed could keep raising rates without derailing the economy. He was also quite sanguine about the trade issue, saying that the events so far "don't add up to a huge effect on the economy." Further reassuring words like this could start speculation about a positive outcome from the May FOMC meeting and help to support the dollar.
Gov. Quarles, who is Vice-Chair of Supervision, is also a key speaker. He will be making the Fed's semi-annual Congressional testimony regarding banking supervision and regulatory conduct. Today's appearance before the House will be mirrored by Thursday's appearance at the Senate (plus a speech Wednesday at the Bretton Woods Committee Annual Meeting – busy man!). The main point to watch for in his speech would be any comments about using the countercyclical capital buffer (CCyB). Fed Gov. Lael Brainard recently raised the possibility of using this new, as-yet unused policy tool to restrain bank lending. If the Fed did decide to do so, it would mean less need to raise interest rates to tighten financial conditions. That would be negative for the dollar.
Evans will discuss the current economic conditions and monetary policy at a Rotary Club meeting in Chicago. I don't think this will make much of an impact, because he spoke recently (7 April) and made his views very clear then. "The headwinds that we were facing have turned into tailwinds, fiscal policy has been much, much more supportive of further growth, and so the need for more accommodative monetary policy is less than it was before," he said. He said he would support "continuing our slow, gradual increases" if it looks like inflation "will soon reach the 2% target."
Bostic just spoke yesterday, so I doubt if he'll say anything new today. This isn't the Humphry Hawkins testimony.
By the way, Philadelphia Fed President Harker will be speaking today about "The Economics of Equitable Education." I didn't include him on the schedule because I doubt if this speech will deal with topics relevant to the market.
Overnight, Japan's trade balance is expected to rise substantially – recovering to positive on a seasonally adjusted basis. This is not what PM Abe will want to hear while on the golf course or wherever with Trump! It could be fodder for Wednesday's closing press conference, assuming there is one. JPY-positive.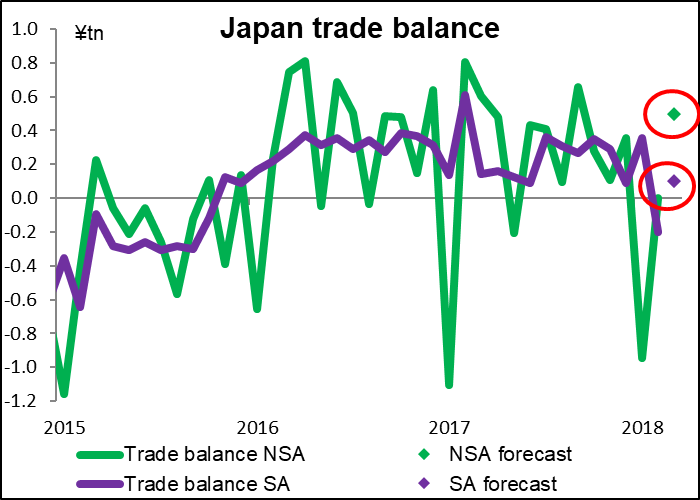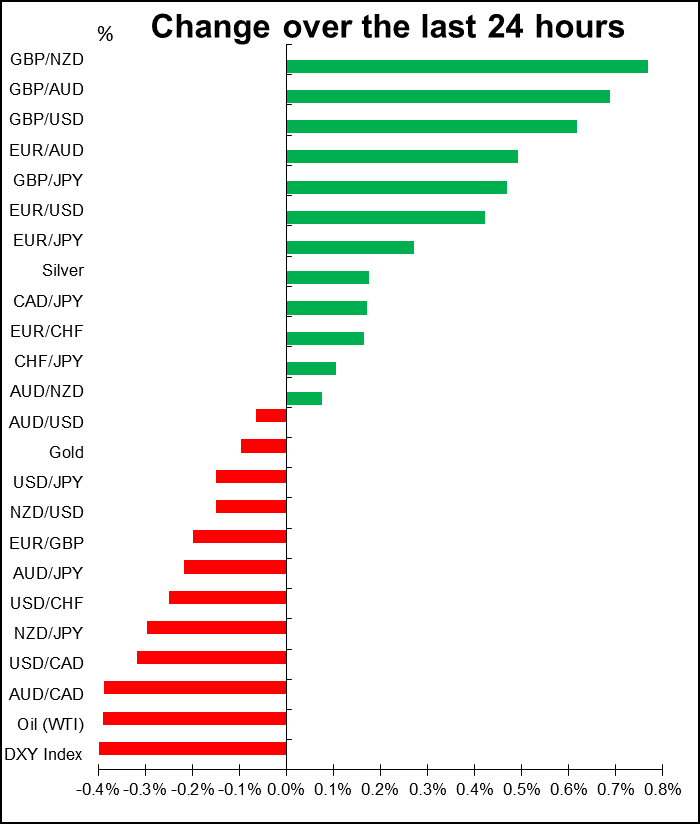 ---
P.S. Did you like my article? Share it in social networks: it will be the best "thank you" :)
Ask me questions and comment below. I'll be glad to answer your questions and give necessary explanations.
Useful links:
I recommend trying to trade with a reliable broker here. The system allows you to trade by yourself or copy successful traders from all across the globe.
Telegram channel with high-quality analytics, Forex reviews, training articles, and other useful things for traders https://t.me/liteforex
The content of this article reflects the author's opinion and does not necessarily reflect the official position of LiteForex. The material published on this page is provided for informational purposes only and should not be considered as the provision of investment advice for the purposes of Directive 2004/39/EC.