The big question in the week just ending is the Fed's intentions. Recent comments from various Fed officials have reinforced the idea that they are "data dependent" with regards to raising rates – that is, they don't have a pre-set schedule for hiking rates (even though they've been pretty much acting as if they do). The theory goes that the stock market is tumbling, the housing market is cracking, and with oil prices plunging, inflation is likely to slow too – so the Fed may at least "pause" in its rate hiking cycle earlier than they had planned.
As you can see, the market's expectations for rates have been much lower than the FOMC's for some time. Comparing the latest curve (red line) with the month ago (purple line), you can also see how expectations have declined over the last month. The market not only expects rates to peak earlier and at a lower level than the FOMC does, but also investors expect rates to begin declining modestly in late 2020, far earlier than the FOMC sees it happening. Before, Committee members were talking about the possibility that they might have to tighten a bit into "restrictive" territory rather than "neutral': now the market doesn't even expect them to get to the forecast long-term equilibrium rate of 3.0%.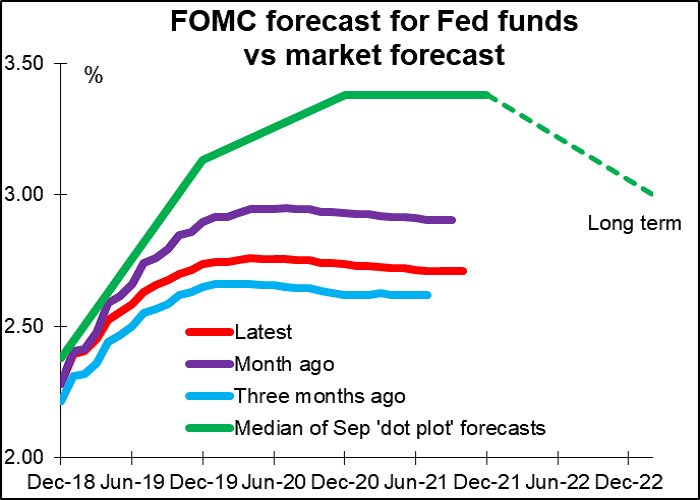 The main reason for this is the expected slowdown in global growth. When asked last week what headwinds the US economy faces, Fed Chair Jerome Powell mentioned slowing global growth, as well as the waning effect of the US tax cuts. Fed Vice Chair also noted that slowing growth abroad could impact the US through trade and capital markets. The coup de grâce was an article by Market News International Wednesday that said Fed officials are starting to consider at least a pause in their monetary tightening and could end their rate hike cycle as early as the spring.
As you can see below, while most of the major countries' purchasing managers' indices (PMIs) are still in expansionary territory, they are also mostly in the fourth quadrant, meaning that they are lower than they were three months ago. This signifies a slowing expansion, albeit still an expansion. The slowdown in Germany, the main engine of growth in the Eurozone, is a particular worry for the global economy. China too seems poised to move over to the left-hand side of the graph into contractionary territory.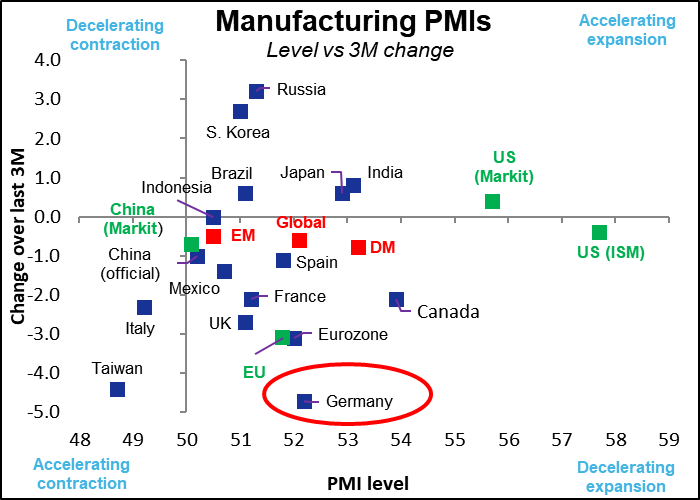 (Note though that South Korea, a major trading country, is expanding at an accelerating pace. That's one optimistic sign.)
As of August, the latest data available, the pace of growth in world trade by value has been slowing, while industrial production has been falling (albeit at a slower pace than before).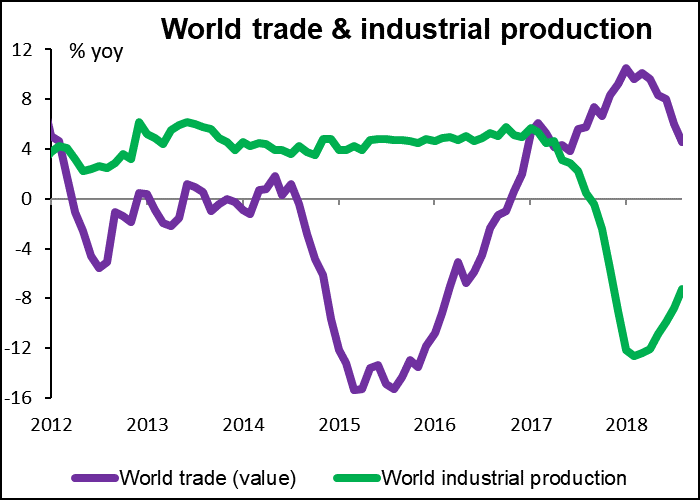 Another thing dampening rate hike explanations is the sudden collapse in the price of oil. That's linked to the expected slowdown in growth of course but also due to supply concerns. Lower oil prices generally mean lower headline inflation, and inflation expectations in the US have been declining accordingly.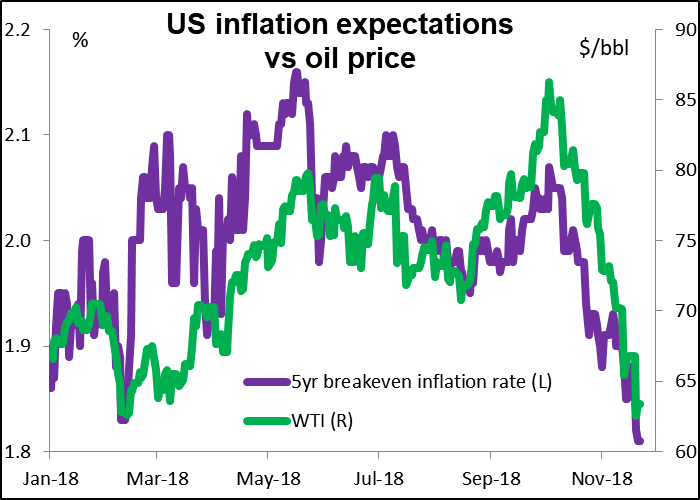 Bad news all around on the housing market as mortgage rates rise has made some people think that the Fed will have to pause lest they collapse the housing market. Monday the National Association of Home Builders' (NAHB) sentiment index unexpectedly plunged. This was just another in a wide range of housing indicators that have started to turn, including existing & new home sales, permits, and house prices.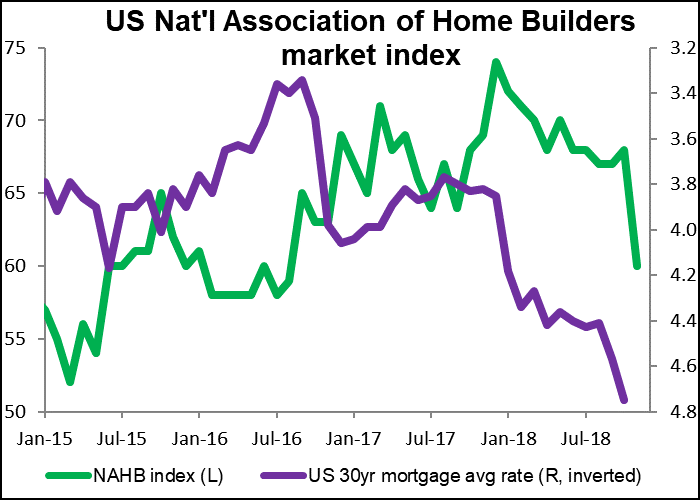 Finally, there's of course the downturn in the stock market, which brings back to many market participants fond memories of the "Greenspan Put." Many people think (hope?) that the Fed will slow the pace of rate hikes in response to the fall in the stock market.
Personally, I don't think the Fed will be that easily deterred. The fact is, they were willing to start hiking rates when inflation was still below 2%, I think they will be willing to keep hiking even if there's a dip back below that level. The point is that financial conditions are still very very loose, not restrictive at all, and they want to get them back up to neutral at least.
In fact, according to the Chicago Fed's National Financial Conditions indices, financial conditions are actually looser than they were when they first started hiking rates back in late 2015. I don't think their estimate of the long-term equilibrium level of Fed funds is likely to be their only measure for a "neutral" monetary policy. I think more normal financial conditions are a better estimate. That being the case, I think they can continue to tighten further and the dollar is likely to appreciate further.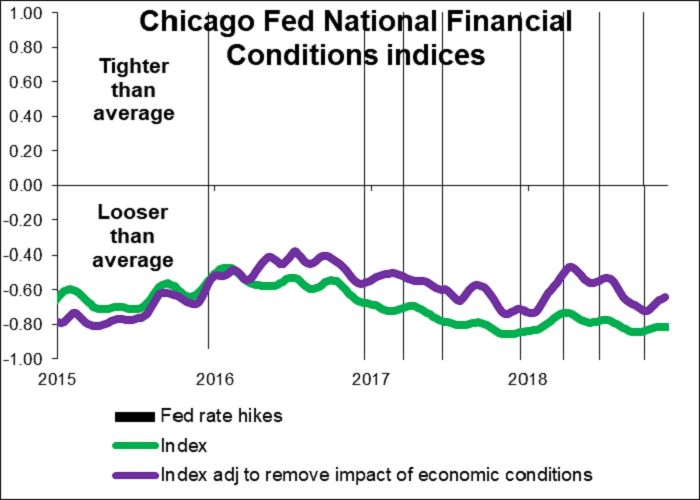 The week coming up: Fedspeak, ECBspeak, G20 meeting, inflation data
In contrast to the relatively quiet week just ending, the upcoming week is packed with adventure.
The biggest events are probably not going to be the data. Rather, there are several important speeches coming up, plus the crucial G20 meeting in Buenos Aires.
Central bank speakers: Monday is ECB day. Executive Council members Nowotny and Coeure speak at a central banking conference in Vienna, and a few hours later, ECB President Draghi appears before the European Parliament's Committee for Economic and Monetary Affairs. He's sure to be grilled on his latest take on inflation, the end of the QE program (will it actually happen as expected in December) and the possible timing of a rate rise, if ever. The big question everyone wants to know though is, what will happen to Italy once the ECB stops buying their bonds? I doubt if he'll have anything significant to say about that though, as it would be impolitic. Draghi will also give the welcome address at joint ECB/Fed conference on Thursday.
Tuesday, Wednesday and Thursday is the Fed: There's a number of Fed speakers this week, including Fed Vice Chair Clarida on Tuesday and Powell on Wednesday. Powell will be speaking at the Economic Club of New York and there will be a Q&A session, so get ready for some market-moving headlines. In addition, Fed Presidents Bostic, Evan and George will all be on a panel discussion on Tuesday. Finally, on Thursday we'll get the minutes of the FOMC's 8 November meeting. The speakers plus the minutes should bring some clarity to the debate over what the Fed's response will be to the downturn in global growth and the jitters in the stock market. I expect that they will try to play down the recent doubts about the Fed's resolve, which may firm the dollar. Then again, they could just reassert that they are not on a pre-set tightening path and will remain data-dependent, which is not necessarily contradictory with continued tightening, but does leave them some wiggle room.
The big event of the week however will be the G20 meeting on Friday and Saturday. Trump is supposed to have dinner with China's President Xi on Saturday and hammer out some kind of agreement, compromise or whatever to lessen the trade tensions between the two countries. Let's hope it's not raining so he can make it! One good news: White House trade policy advisor Peter Navarro apparently won't be attending. He's a huge China hawk. His absence suggests that the two sides do hope to cobble together some kind of agreement. If they do, that's likely to be good for risk sentiment – which oddly enough would probably be good for EUR, bad for USD.
As for the indicators, we're going to get a good view of global inflation as the US, EU and Japan all release various inflation figures. The common theme among them is likely to be that there is no noticeable uptick in underlying inflation. While headline inflation measures are mixed, all of the core measures are expected to be unchanged or show slower growth. And with oil prices falling around the world, headline measures are likely to start falling soon too. These data could be negative for both USD and EUR if they cast doubt on the resolve of central banks to tighten policy.
On Thursday we get the US personal consumption expenditure (PCE) deflators. These, not the CPI, are the Fed's preferred inflation gauges and so in my view should be the biggest indicators of the month, but then again, I also think I should be King, and that's not likely to happen any time soon either. The headline figure is expected to show inflation accelerating slightly, but the more important core PCE deflator is forecast to decelerate slightly to just below the Fed's 2% target. Nonetheless, it would still allow the Committee to say that inflation remains "near 2 percent," and so not require any change in the pace of tightening.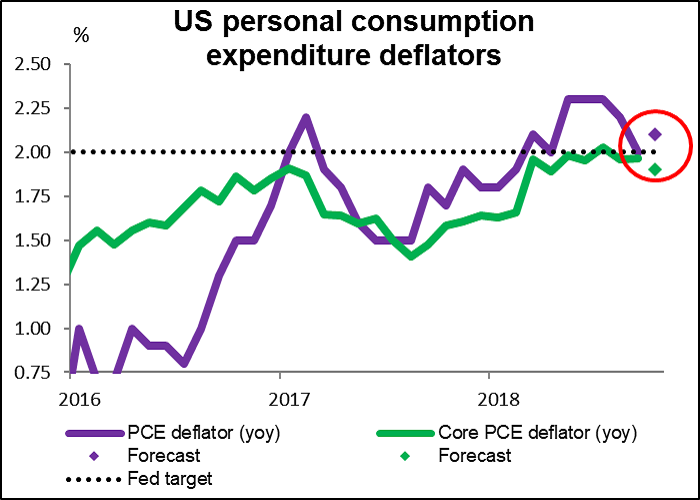 On Thursday we get the German CPI, followed by the EU-wide CPI on Friday. Both are expected to show a 10 bps deceleration in the annual pace of inflation. Although that would still leave them above the target 2% range, the direction isn't what they want to see. Meanwhile, the core EU-wide CPI is supposed to remain at 1.1% yoy, far below the target 2% rate of increase. EUR-negative.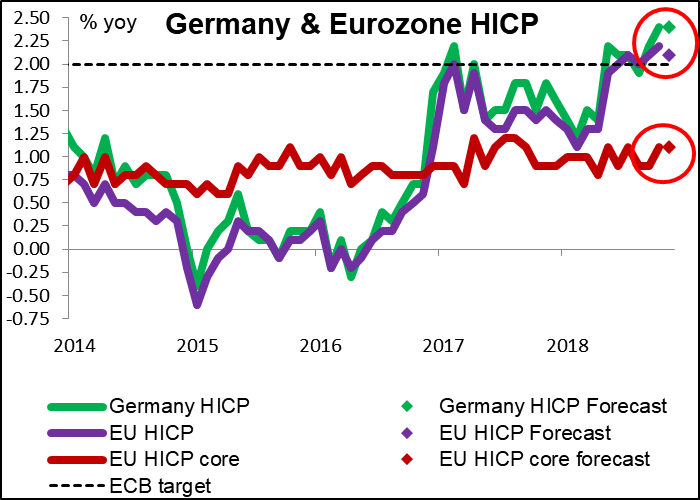 Japan will also release the Tokyo CPI on Friday morning Tokyo time, along with the usual slew of end-month indicators (including unemployment rate, job-offers-to-applicants ratio, and industrial production, among others). The headline rate of inflation is expected to slow notably, but the rate excluding fresh foods (Japan-style core inflation) and fresh foods + energy ("core-core") are both expected to remain unchanged. JPY neutral.
Finally, two other points to mention: the weekly Commitment of Traders report won't be coming out today (23 Nov) because of the Thanksgiving holiday. Instead it'll come out on Monday. Also Monday, we'll have Bank of England Gov. Carney speaking with former Fed Chair Alan Greenspan about the latter's new book, Capitalism in America: A History. I don't know if their discussion will have any bearing on today's economy, but people may still be interested to hear what "The Maestro" has to say.
The content of this article reflects the author's opinion and does not necessarily reflect the official position of LiteForex. The material published on this page is provided for informational purposes only and should not be considered as the provision of investment advice for the purposes of Directive 2004/39/EC.