Current trend
Quotes of WTI crude oil continue to grow in view of stabilization of supply and demand in the market.
The price of "black gold" is steadily growing for the past two months despite the strengthening of USD. Since mid-February, quotes have risen by more than 11 dollars per barrel – from 58.50 to 69.60. This week, the instrument went into consolidation and is traded in a wide lateral channel of 67.00—69.60.
The main catalyst for growth and support for oil quotes continues to be the OPEC+ agreement to reduce production. The resumption of US sanctions against Iran has a positive effect, too. Thus, the demand for oil is growing and the supply/demand ratio is gradually leveling off. Even the growth of reserves according to the US Department of Energy in mid-April and yesterday failed to exert pressure on quotes. The dollar is growing, but the price of "black gold" remains in an upward trend, which indicates a strong momentum.
At the end of the week, attention should be paid to the data on US durable goods orders and the economy growth.
Support and resistance
In the short term, sideward consolidation movement in the current channel is expected. In the future, the instrument will continue to grow, but a deeper correction within the current trend to 65.75, 63.25 marks is likely.
Technical indicators keep a strong growth signal: MACD indicates the preservation of the high volume of long positions, and Bollinger Bands are still directed upwards.
Support levels: 68.00, 67.00, 65.75, 63.25, 60.75, 59.50.
Resistance levels: 69.60, 70.10, 70.70, 71.50, 72.65, 74.00.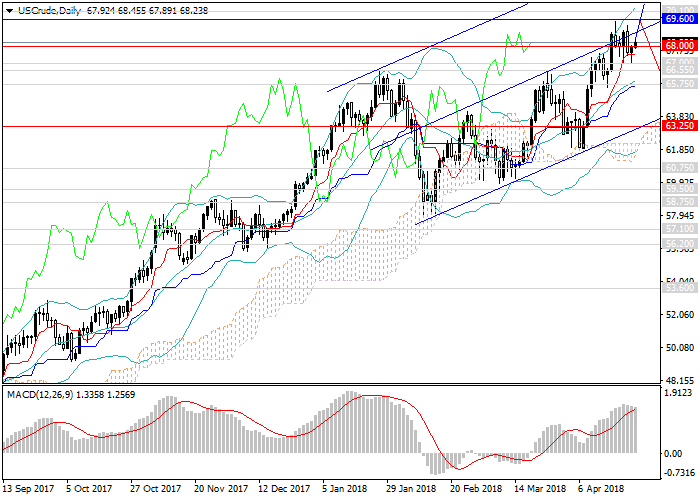 Trading tips
In this situation, the opening of deferred long positions will be relevant from the levels of 65.75, 63.25 with targets at 72.65, 74.00.
Scenario
| | |
| --- | --- |
| Timeframe | Weekly |
| Recommendations | BUY LIMIT |
| Entry Point | 65.75, 63.25 |
| Take Profit | 70.70, 72.65, 74.00 |
| Stop Loss | 62.50 |
| Support levels | 59.50, 60.75, 63.25, 65.75, 67.00, 68.00, 69.60, 70.10, 70.70, 71.50, 72.65, 74.00 |
The material published on this page is produced by the Claws&Horns Company and should not be considered as the provision of investment advice for the purposes of Directive 2004/39/EC; furthermore it has not been prepared in accordance with legal requirements designed to promote the independence of investment research and is not subject to any prohibition on dealing ahead of the dissemination of investment research.