XAU/USD, H4
On the 4-hour chart, the pair is trading at 1179.88, which is matching 23.6% Fibonacci correction level. Within the downward trend, the price is forming a 'pennant'. Most likely, the price breaks down of it and continues falling towards 1176.00, 1169.70, and further down towards two weeks low of 1165.00.
The markets remain uncertain, as the decision by the Fed regarding the US interest rates and future monetary policy is due later today. The Bollinger bands and Stochastic remain flat. MACD is at the zero line and the volumes are low.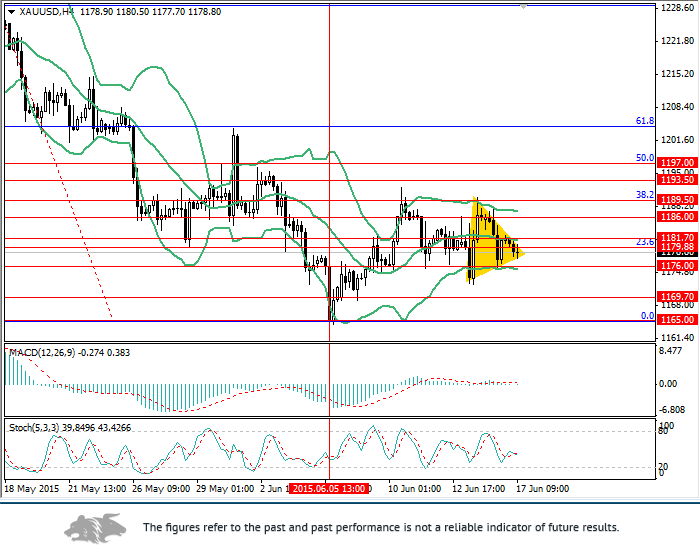 XAU/USD, D1
On the daily chart, the price has left the downward channel but will likely return inside soon. The pair has failed to break out of the level of 1185.00 (Fibonacci 23.6%) and is moving downwards. Also, note that the area 1180.00—1185.00 is particularly strong resistance level because there stands Fibonacci 23.6% correction level on both 4-hour and daily charts Fibonacci 23.6%.
In general, technical indicators signal downward trend. The Bollinger bands are turning down, the price remains under the pressure from the middle line. MACD histogram remains in the negative zone with constant levels. Stochastic lines have crossed over and are turning down.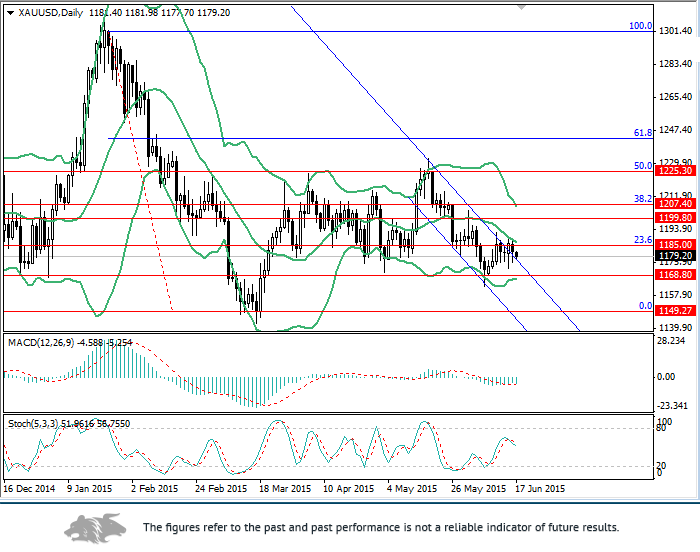 Support and resistance
Support levels: 1176.00, 1169.70, 1168.80, 1165.00.
Resistance levels: 1179.88, 1185.00, 1189.50, 1197.00. 1199.80, 1207.40.
Trading tips
According to the technical indicators signals, the downward trend towards 1176.00, 1169.70 and possibly 1165.00 is expected to continue. Open short positions after the breakdown of 1176.00 with targets at 1169.70 and 1165.00. Long positions should be opened after the price consolidation at 1186.00 with targets at 1189.50 and 1197.00.