GBP/JPY, D1
On the daily chart, the pair is trading in the upper Bollinger band, just above its EMA130, EMA65 and EMA13. All moving averages are directing horizontally indicating a consolidation in the pair. The RSI is growing along its trend line as it unsuccessfully tested its longer MA last week. The Composite is breaking through its MA's towards its most recent resistance. MA's for both indicators suggest a strength of the market.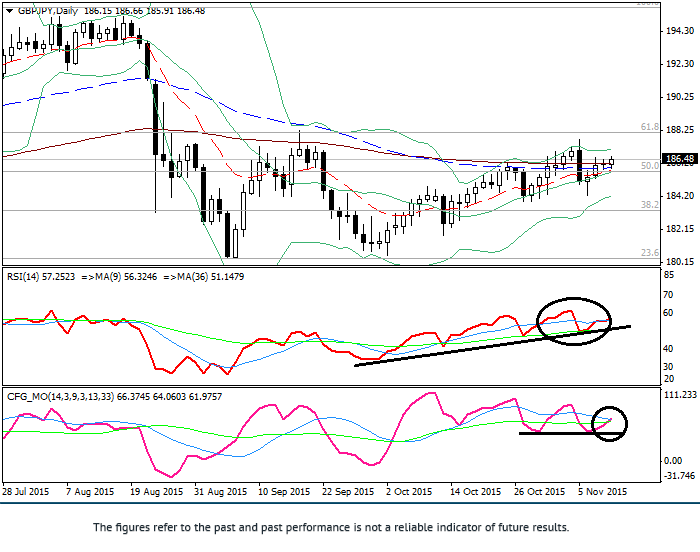 GBP/JPY, H4
On the 4-hour chart, the price is growing towards the upper MA of Bollinger Bands. The price remains above its moving averages that are heading up indicating the direction of a short-term trend. The RSI keeps testing its resistance that it cannot break out for few days now. The Composite bounced off its longer MA and growing. The indicator suggests there is a growth potential in the pair.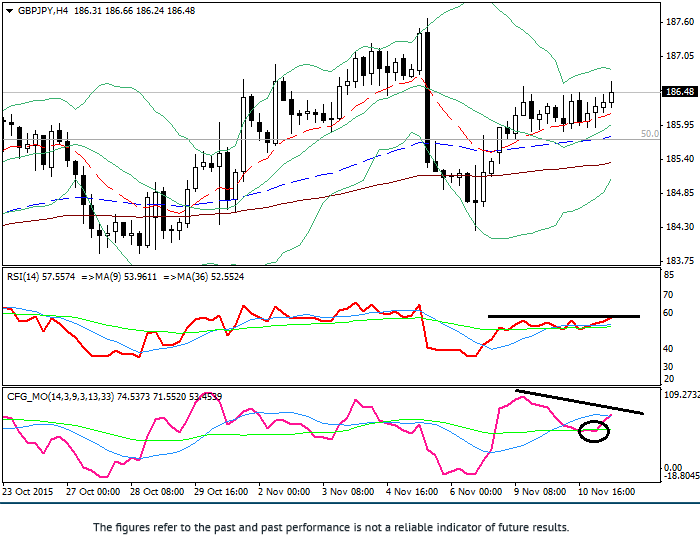 Key levels
Support levels: 186.30 (local lows), 186.10 (EMA130 on the daily chart), 185.70 (50% Fibonacci retracement, middle MA of Bollinger Bands on the daily chart),
Resistance levels: 187.10 (local highs), 187.27 (active trade), 187.68 (5 November highs).
Trading tips
Open long positions from the level of 186.40 with targets at 187.10, 187.25 and stop-loss at 186.02. Validity – 1-2 days.
Short positions can be opened below the level of 185.60 with the target at 185.06 and stop-loss at 185.80. Validity – 1-2 days.